Books I Am Getting Rid Of
All of the below books I am getting rid of. If you want any of them please just let me know either via Facebook, Twitter or E-mail. My Twitter handle is DealerDan and you can e-mail me at graeme@dealerdan.com.
All books are free. You can either pick them up or I'll drop them off too maybe. Below is a picture of all the books:
Please Note: Many of the books are gone. See text list below for full, updated list.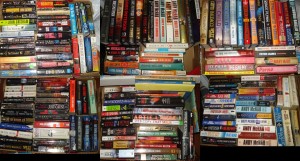 Click that picture for full size.
Now here is the text list of every book still available. If the book you are looking for is not on the below list then it is taken.
And please – feel free to request as many of these as you want. My goal is to get rid of them so please take as many as you can!
John Katzenbach:
State of Mind
David Baldacci:
Absolute Power
Hour Game
Last Man Standing
Saving Faith
Split Second(2 copies, 1 paperback 1 hardcover)
The Camel Club
The Simple Truth
The Winner
Total Control (2 copies)
Jeffery Deaver:
The Bone Collector
Robert Crais:
The Two Minute Rule
Brad Meltzer:
Zero Game
The First Counsel
The Tenth Justice(2 copies)
Dead Even
The Millionaires
John Grisham:
The Last Juror
The Broker
The Associate
The Brethren
The Firm
The Innocent Man
The Testament
The Summons
The Pelican Brief
A Time To Kill
The Client
The Rainmaker
The Street Lawyer
The Chamber
The Confession
The Appeal
Brad Thor:
Foreign Influence
Path of the Assassin
The Apostle
The First Commandment
Linwood Barclay:
Never Look Away
No Time For Goodbye
Too Close To Home
Fear The Worst
John Clarkson:
One Way Out
One Mans Law
Vince Flynn:
Extreme Measures
Protect and Defend
Consent To Kill
Pursuit of Honor
Term Limits
Separation of Power
The Third Option
Memorial Day
Transfer of Power
Executive Power
Act of Treason
American Assassin
James Patterson:
London Bridges
When The Wind Blows
Violets Are Blue
Roses Are Red
Season of the Machete
The Big Bad Wolf
Along Came A Spider
Kiss The Girls
Double Cross
Cross
I, Alex Cross
Cross Country
Cross Fire
Pop Goes The Weasel
Andy McNab:
Last Light
Deep Black
Liberation Day
Dark Winter
Zero Hour
Exit Wound
Recoil
Brute Force
Lee Child:
Die Trying
Tripwire
Without Fail
Running Blind
One Shot
The Enemy
Echo Burning
Killing Floor
Nothing To Lose
Bad Luck and Trouble
The Hard Way
The Affair
Joseph Garber:
Vertical Run
Dean Koontz:
The Good Guy
Omnibus – The Servants of Twilight, Darkfall, Phantoms
Intensity
Misc:
Flashforward by Robert J. Sawyer
Darkly Dreaming Dexter by Jeff Lindsay
Tributes II by Dave Meltzer
Huh Huh for Hollywood – Beavis & Butthead