Whew – it's been a long time coming, but I finally sorted out my affiliate program reviews section.
I revamped Affiliate Bible back in November, and the status of the section then was basically "Yeah, I'm gonna do something about this soon!". Of course it got buried on a to do list, and stayed that way for a good few months…
…until last week.
The one problem I had with the section was I couldn't figure out a design for it. I wanted something slick, but nothing really appeared natural enough to work on this setup. I had a brainstorming session with my coder, and it went pretty much like this:
Me: "Just do some generic tabs or something I really don't care"
Coder: "No."
Me: "Well what about an additional notepad?"
Coder: "No."
Me: "Hand draw it onto paper? I have no clue I give up."
Coder: "How do you feel about putting it on a goddamn ipad?"
A week later: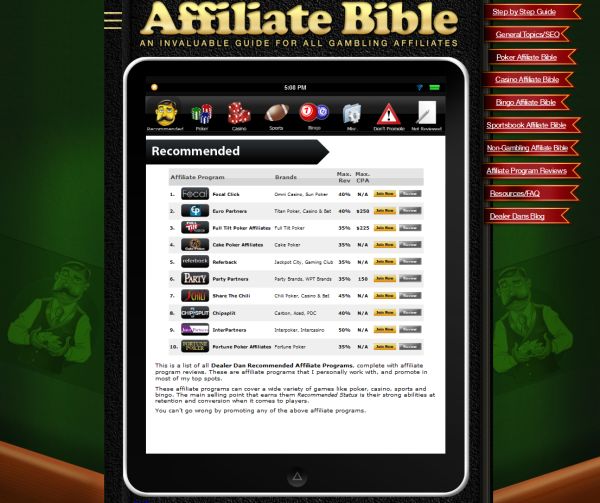 (Can see it in full detail in our affiliate program reviews section).
Of course just doing that wasn't enough, we had to do it with the actual affiliate program reviews as well. Take this InterPartners Review for example: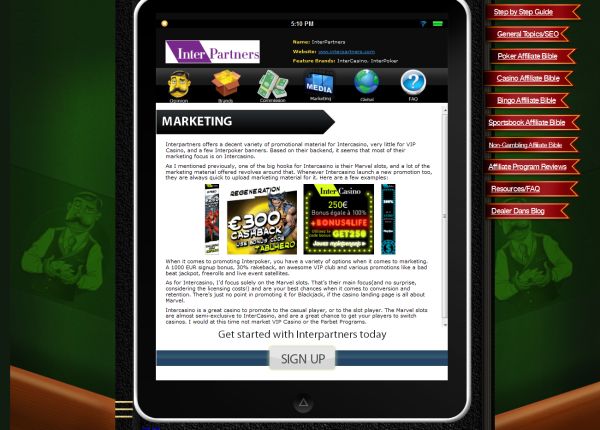 This is just the first of quite a few design overhauls we are making to the site. I also went through and rewrote EVERY affiliate program review.
However I need your help when it comes to the affiliate program reviews.
I don't want these to be like all those other affiliate program reviews out there, where the affiliate program pays a website $6,000 a year or whatever and then that website writes up a review talking about how amazing the program is with absolutely no negatives, and buzz words like "retention" and "conversion".
I want these reviews to be something you guys check before signing up at an affiliate program. You might think "Hey I think I want to sign up for Interpartners – before I do that though I'm going to go read about them at AffiliateBible.com".
So first of all the reviews will be constantly updated whenever anything changes in the industry. For example, the Chipsplit review currently notes that they don't accept US players temporarily.
Second, I aim to cover everything I can about each affiliate program. Here's a breakdown of each section:
DEALER DANS OPINION: This is my 100% honest opinion about that affiliate program. Also if others have issues with that affiliate program but I don't, I'll still make you aware of those issues. I'm not afraid to be negative.
BRANDS: This section lists all the brands that affiliate program offers. It also goes into detail about what software they use, what bonuses they offer, and any other additional information.
COMMISSION: A break-down of the commission structure offered by that affiliate program. I'll detail revenue share, CPA and hybrid deals. If any third-party affiliate company offer the ability to promote them, I'll mention that too and go into details about that.
MARKETING: In this section I offer advice on how to market the brands, how to market to, and what ones to stay away from. I also display some example marketing banners.
GLOBAL: I talk about what languages the brands webpages and clients are translated to, as well as what sort of banners they have and what currency they use. I also talk about their software, whether Mac users can use it and what options they have.
FAQ: This is where you can ask a question about an affiliate program and I'll happily answer it.
Is there anything else I am missing? Before signing up with an affiliate program, is there anything else you would like to know?
Either hit me up in the comments or Contact Me via E-mail. Thanks!