Welcome to the page all about ol Dealer Dan, and the man behind him.
So yeah, where do we start? Well my real name is Graeme, and the whole "Dealer Dan" identity is used primarily for branding and marketing purposes.
I'm from Scotland, although I moved to Canada when I was 16. I was born on January 23rd, 1981 so am approximately 29-30 at this point. I currently live in Ontario, in Canada.
I'm married, with two kids. A boy, Mason and a girl, Ella.
Some people ask me at times how I can work so hard. They envision "working from home" meaning you sit around watching movies all day while in your PJs, doing very little work. Yet I'm a workaholic, and have been known to work 20 hours in a row on the odd occasion when working on a project. And I do all that for these two gems: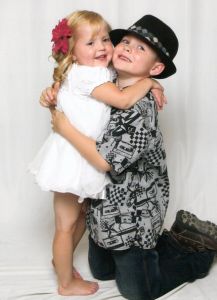 Everything I do in my life is for them. And I guess my wife too? 🙂 Here is a picture of me and my wonderful wife of way too many years: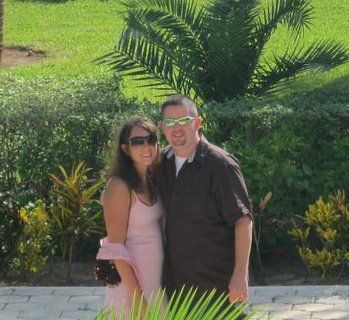 Okay so that's the personal crap out of the way – let's get into my history in internet marketing.
I first discovered the internet in 1996, and quite promptly started my own internet website. It was nothing special – just some random website on Geocities which contained links to other websites that I liked.
Around the same time I became a big fan of the WWF and wrestling in general, and started running wrestling websites. All these were done for free and were just a hobby. I ran various websites over the years like Pro Wrestling World, The Pedigree and Wrestling Uncensored/XWrestling. I also produced an e-mail newsletter called "The Kilt Report".
While none of these sites focused on making money, they did teach me a lot about internet marketing. Back in the day, the most important thing for a wrestling website was the amount of visitors you got. The most popular stat program at the time was HitBox, and all the statistics were public, so you were always battling with huge websites to become the #1 program on HitBox. I'm proud to say that I was able to obtain that a few times, and was in the top 10 websites practically every day. And that was when there was no such acronym as "SEO".
With experience under my belt, I started doing internet marketing on a more serious level – warez and pornography. The one problem in these days was it was very hard to get paid, and even though I had healthy account balances, often I'd never receive a penny and the affiliate programs could just get away with it.
My next website was a type of "blog" website – it was called "Scotsmanality" and it was actually just a blog about my life, back before "blog" was as common a word as it is today. However I wrote about my life in an interesting and hilarious fashion, and was getting 1000-2000 unique visitors per day just to read about my life. This was where I really learnt all my writing skills and how to write for the web, and how to keep a reader focused throughout an entire article.
If you ever read a story, and the writer has a shocking revelation where the font gets bigger and the line is repeated three times for emphasis, like:
And that's when she pulled out her penis.
And that's when she pulled out her penis.
And that's when she pulled out her penis.
Yeah, I invented that!
For awhile I just focused on running campaigns directing visitors to websites like Amazon. I always felt internet marketing would just be a part-time job for me to give me some extra beer money. I would build forums on specific topics and build a community then flip them, but other than that internet marketing was just a hobby. I had a regular 9-5 job at the Government, and I didn't see much changing.
Then I discovered online poker.
I discovered online poker via a free $10 offer at Royal Vegas Poker, and was instantly hooked. This was in 2003 approximately. I started learning the game like crazy, starting my own forums as well as joining forums and being completely engrossed in online poker.
Then I saw a link on a page which said "Affiliates".
I was creating a bonus whoring guide for forums, just to be informative and helpful. Back in the day, poker bonus whoring was a big thing. Go to Party Poker, deposit $100 and play 500 hands for $100 bonus, withdraw, hit up this next room and so on. While compiling a list, I discovered the whole affiliate side of things when it came to poker, and I was hooked.
I would promptly start up my first website, Ultimate Poker Bankroll and become an official gambling affiliate.
This was pre-UIEGA, and while poker rooms and casinos were naive to bonus whoring plus had millions to splash around, so I was able to make some serious bank. You could tell a visitor how to hit up a casino and play their Blackjack bonus and it was actually -EV for the casino – and the casino would pay you $200 for sending that player! It was insane.
I immediately got into the rakeback world and was one of the very first rakeback affiliates. Considering how oversaturated it is today, you can imagine how great it was back then, with only a few other websites with the word "rakeback" in their domain name.
So everything was going smoothly until the UIEGA happened, and the gambling world started to take a decline. Thankfully I had lived through the dot-com bubble burst of 2000, and I knew that the best reaction was action. So I diversified, and I got into things like online dating while others were sitting there freaking out about what would happen with the UIEGA.
And that's pretty much my history. I'm at the stage now where I have a base of employees who do the majority of the work. Although when called upon I'll work my ass off, I much prefer stating that I am in "semi-retirement". And that's what is great about internet and affiliate marketing – while I'm playing XBox, playing golf, out at the bar and hanging out with my family – the money continues to pour in.
Affiliate Marketing. God, I love it.