For many years, I used Disqus on my wordpress websites when it came to comments.
It seemed to do an excellent job, and was nice when it came to cosmetics.
They ran a fair amount of ads but I didn't really find that much of an issue.
Unfortunately, it stopped e-mailing me when there were comments to be approved. This was a major issue as I have websites that receive over 100 comments per day.
I was mass deleting comments, but then missing some key ones. The website pokies online NZ had replied to a post for example and I have friends involved with that site. Initially due to the mass delete, I deleted their comment. So I had to look into something else in regard to making sure legitimate comments such as that come through.
So I ditched Disqus and went with the default WordPress system.
One big issue I found immediately was spam. The amount of comment spam that Disqus was blocking was clearly huge. I was getting about 1000 e-mails immediately upon activating the default WordPress comments and it was all spam.
I looked at the default plugin Akismet, but I wasn't impressed with the costs of that. I looked around, and ended up checking out Cleantalk.
They have a trial period and I only needed a day to decide that Cleantalk was the way ahead.
Not only did the spam all get blocked immediately, but I found everything to do with the user interface to be excellent. Only legitimate comments actually get through to my e-mail now. I don't believe I've had one spam e-mail get through since I started using it.

What I like about it is the interface is so excellent and easy to use. Any comments that it blocks, are thrown immediately into the spam section of comments on WordPress.
Occasionally, false positives get in there. That's fine. When I mark it as not spam, I get a message from cleantalk letting me know that this sort of thing is helpful for them and they update their database with it. As time goes on, I've noticed I am seeing less and less false positives.
Their customer support is excellent. Look at this – I e-mailed them at 1:25pm about an issue in regard to it conflicting with contact form 7. It took them exactly one hour to reply. Complete with a screenshot, highlighting two options I should click to fix the problem.

(Blurred out part is just because it's the individuals name that replied and I wasn't sure if I could post that or not)
That was also the only communication I have had with them in over a year. Why? Because I have never had an issue since then.
I should note that they also block WordPress contact form spam, which is huge. Here's an example of the backend showing a lot of the blocked and approved messages: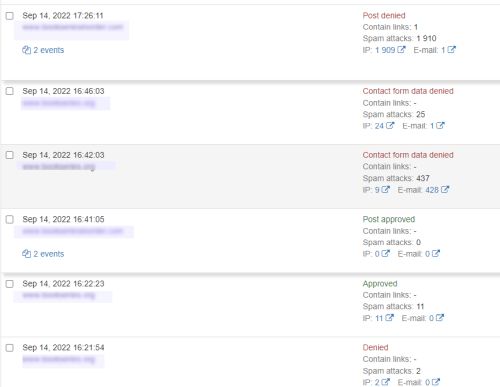 I was just asked today about what I use to block WordPress comment spam. I decided that it'd be helpful for everyone if I wrote this article reviewing it. If you're tired of WordPress comment spam, check out Cleantalk.