Well what else could I be thanking? For those unaware I was away for 10 days last week in beautiful, sunny(for the most part) Mexico staying at an all-inclusive resort so we're going to have a vacation themed T_IM. Hopefully it'll inspire some of you to realize you're working too hard, and it's time to take a break and get some relaxation going on.
There's nothing like an all-inclusive resort to really take the stress away. I mean when you travel to places like New York, Paris etc – I never think of that as a vacation. It's work, man. You have to figure out where you're going to eat, you have to cram all this sightseeing into a few short days – it's a pain in the ass.
Give me an all-inclusive resort anytime. If you want to go out then great – especially in Mexico where there is plenty of cool places to go to. But if you don't want to? Stay around the resort, soak in the sun, relax in the various hot tubs and pools and eat and drink all that you can handle.
That's what I call a vacation.
Maybe I'm Just A Positive Guy…
But whenever I go to a resort, I ALWAYS find reasons to say "Wow, this is the best resort I've ever been to".
It's always the little things that I really notice and make the trip better. For example – the previous resort I went to had hammocks on the balconies. I thought that was great – then we got to this resort and they had freakin BEDS on the balcony: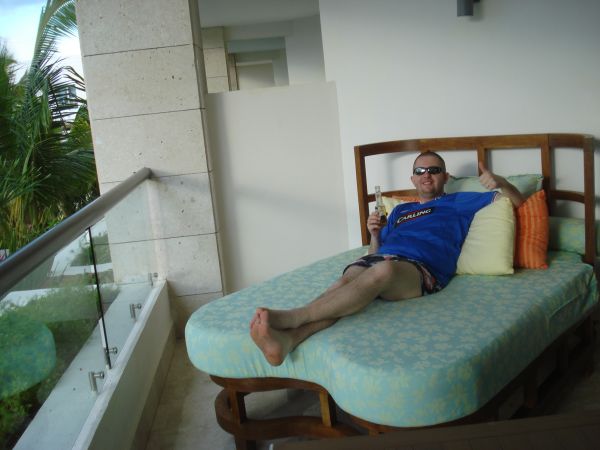 Every other resort has a bar filled with beer. Not only did this one have that but it also had a bunch of big ass alcohol bottles – Jim Beam, Tequila, Wine, Vodka. It's just small things like that which make the trip all the better.
The resort was the Excellence Playa Mujeres and I honestly can't recommend it enough. I usually go to Tulum, so it was nice to have a ride from the airport that was only about 30 minutes. Their website is here. Just fantastic.
Oh, plus the TVs in the room? They had two free PORN channels.
How can you not love that?
Of Course It Wasn't All Good…
On the second night I may have had too much to drink. I'm not sure if I did or not though – I blacked out, so I can't remember.
Anyway, I ended up cracking some ribs. Not exactly sure how I did it. Probably fell on the marble steps or something, although it's possible I also picked a fight with the Karate Kid. I'm an idiot like that sometimes.
Hit up the doctor on the resort who told me "You need to rest. Lots and lots of rest. Don't do anything strenuous."
So two days later I of course went ziplining, cave swimming and driving through the jungle and caves in a 4×4: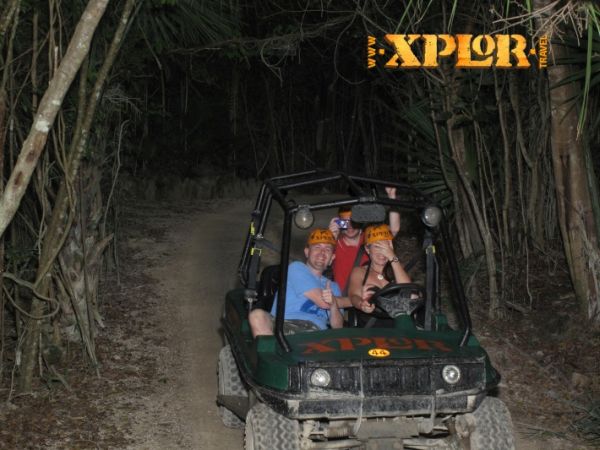 Hey, YOLO right?
…I can't believe I just typed that.
Eat, Eat, Eat
This resort was different than the others I went to – in that at dinner time, there was no buffet. There was just a variety of restaurants you went to instead. I actually liked this better – we did buffet for breakfast and lunch so it can get a bit tiresome.
Favourite was the Tapas restaurant, where they bring a big chalkboard of menu items and then you pick whatever you want. Here was our table: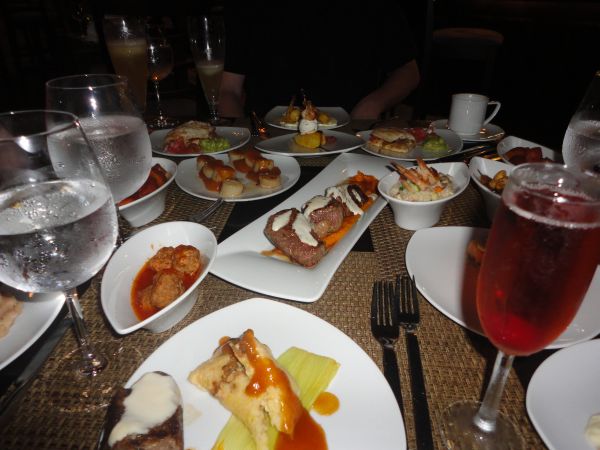 And that wasn't all – that was the SECOND helpings. That's one thing about these resorts – when you come back, you're hitting up the gym pretty damn quickly.
No Work:
Funniest thing when I go on these vacations – I always think I'm going to work. Then you get that first beer and it all goes out the window. I spent hours getting my netbook all prepped up and ready to go. Then I get there and I did practically nothing. I opened my e-mail inbox one day, looked at it and just said "ugh" and gave up. Trips like this just force you to not care about work, and it's great to take a break and get refreshed. If you've never been to a resort – especially in Mexico – you need to go. I try and go at least once a year – in my opinion there's no better vacation.
I even gave up my rigorous wake-up schedule. Hey, I was on vacation. No more getting up at 5am.
I got up at 6am instead.
But hey can you blame me? Nothing better than getting up at the crack of dawn, going out to the bed on the balcony and enjoying this view with everything quiet: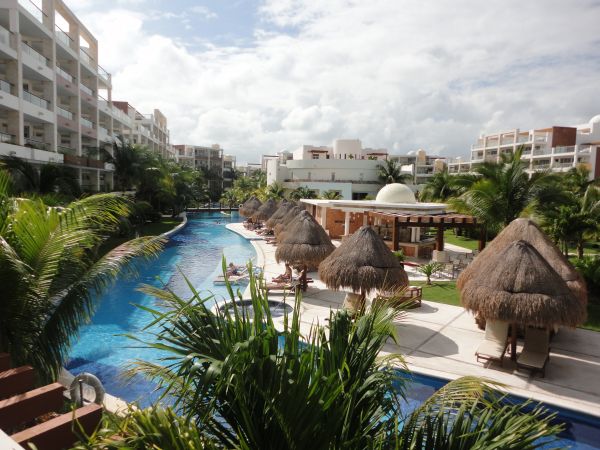 I've spent the last few days getting caught up on work, and now I am ready to rock this week. So for now I bid you a fond farewell, because I've got a lot of work to do.
I miss you Mexico 🙁