Flytonic Themes are one of the best theme producing companies for WordPress, especially among gambling affiliates. This is due to their initial focus on a wide variety of amazing themes tailored pretty much exclusively for gambling affiliates. The templates would include on-the-fly poker/casino review pages, top bonus lists and numerous other features.
Of course it's 2011, and gambling affiliates are diversifying all over the place, as are Flytonic Themes. Flytonic Themes have came out lately with a wide variety of different and really great themes. One of them really caught my eye and I spoke to the owner of Flytonic Themes about getting some coupon codes to promote this theme.
Flytonic Themes went further than that – not content to just give out some coupon codes, they offered a free copy of their latest theme PLUS the framework – a $175 value.
This theme is the MMA Theme and it is a fantastic premium theme for WordPress. More and more affiliates every day are apparently looking to get into the MMA affiliate marketing world, and Flytonic have a very solid theme for you to use.
All information on the free contest and coupon code is below. Here are a few screenshots of the theme: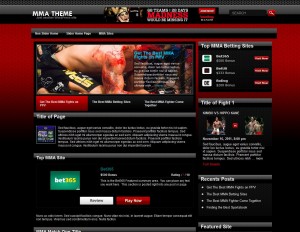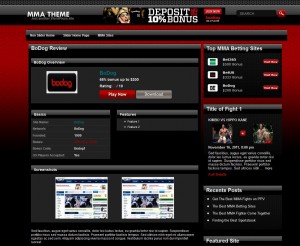 (Click the image to see a bigger size)
Of course the design is only one aspect of this design. Where the quality of the Flytonic Themes really come into play is in the backend. Just a few of the MANY features:
Customizable Design with easy built-in CSS editor
Various customizable templates – ie for talking about fights
Whole database backend that stores and utilizies the sportbooks you promote
Featured Sportsbook widget, ability to randomize
Incredibly easy to translate all text
So first the coupon codes:
PAB5: $5 off the $40 MMA Child Theme.
PAB20: $20 off any flytonic framework theme.
But of course – don't buy yet! Instead take part in our contest, and win yourself The MMA Theme and Framework for Free.
This is a value of $175 and in my opinion the Framework is worth that alone.
So – how do you win one of these bad boys? It's very easy: Predict UFC 134 Correctly.
UFC 134 is tomorrow night, and if you get the most predictions correct you'll win this theme.
The predictions are only for the main card, which is:
Luiz Cane vs Nedkov
Ross Pearson vs Edson Barboza
Brendon Schaub vs Big Nog
Shogun vs Forrest Griffin
Anderson Silva vs Yushin Okami
You have to predict the winner, the finish of the fight(TKO/KO, Submission, Decision) and what round. 1 pt for winner, 2 pts for finish, 2 pts for round. You need to get the winner however, to qualify the points for the finish/round. So for example:
Silva, TKO/KO, Rd 1.
Simple as that. Just post them in the comments below, and thanks to Flytonic Themes for this awesome contest. Be sure to post your e-mail and/or website in the comments so I know how to get in contact with you.