I think one large misconception new affiliates have when it comes to gambling affiliation, is that they absolutely HAVE to create some form of gambling website. The problem with that is the internet is already oversaturated to a ridiculous degree with gambling websites, and it can be very hard to create a successful website.
The competition is extremely tough and there are very few untapped niches these days.
Something I have suggested to affiliates in the past is to create a passion product instead, then incorporate gambling into it.
You see – you don't HAVE to target gamblers or people looking to gamble. You can promote to everyday, regular people who aren't online with the intention of gambling.
I remember when a slot machine based on the TV show Friends hit Las Vegas back in 2016. There were big lineups and people anxious to play it. Most of these people weren't what you would call gamblers; they were simply fans of the TV show and wanted to play a slot machine that was specifically catered to their interests.
There are a variety of websites you could create based on your own passions, which you could then incorporate gambling marketing into. Slots are a great one for that simply because they cover practically every niche. Let me give a few examples:
A Fishing Website
This is an actual real-life example. One of my good friends who used to be an affiliate manager with a gambling company about 10 years ago, told me he wanted to get back into the gambling affiliate game as a side project. The problem was he had no idea what type of website to create.
We were out on his fishing boat at the time. He goes out every weekend, and it is his biggest passion in life. He runs a fishing website where he blogs his adventures and also reviews products. I said to him rather than start an entirely new website, why not promote something like the big bass bonanza slot game to your audience?
He said "Well my audience aren't there looking to gamble" and I said they don't have to be – you can still market fishing slots such as Big Bass to them.
I picked this particular slot because I felt it would be the best type of slot for a casual player. As this is a real-life example I'm going to go into a bit of detail about it.
I felt that attempting to entice his audience of fishing enthusiasts with the likes of progressive jackpots and bonuses etc wasn't the way to go – instead simply present a fishing-type game to them that they may enjoy.
Big Bass Bonanza is a solid slot machine that doesn't have too many confusing gimmicks; you've got 5 feels. You've got 10 pay lines. You've got nice low bets. You have a straightforward bonus game that gives the user free spins.
It's the perfect introductory slot machine for any fishing enthusiast looking to casually gamble.
What I really liked about this one is the icons and colours too. It's a very bright, visual game. Lots of fun colours. What this means is that it stands out that much more to the audience on his page. It is extremely eye-catching.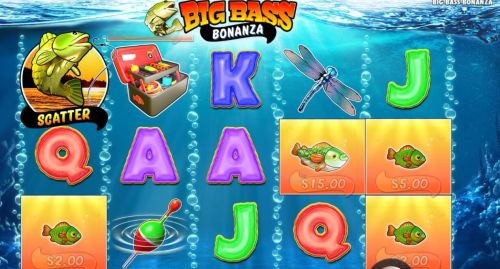 Big Bass Bonanza is also available on mobile, which was key for so many reasons. One of those is hey – sometimes fishing is a lot of sitting around. What if these fishing enthusiasts, while out on the lake, wanted something to entertain themselves? Well, they could fire up Big Bass Bonanza in their iPhones no problem.
What I like about this guy is that he is honest. He didn't want to do any sort of "hard sell" to his audience or make stuff up. So the next day when he went out fishing, he actually started playing Big Bass Bonanza while out there. Then he went home, blogged about his day, mentioned that he played it and he had a lot of fun, then provided a link to where he played it.
He immediately got signups and people depositing. He didn't have to do anything crazy; he simply presented a slot machine that he felt would be of interest to his audience, and they loved it.
He then started promoting Big Bass Bonanza over his site more. Nothing too crazy. Just a sidebar graphic and some text mentioning that he played it. Like I said the graphics are very eye-catching to it ended up converting very well for him.
From just Big Bass Bonanza, he has been able to promote various other fishing slots to his audience. He NEVER focuses on a casino offer or welcome bonus or anything like that. He tried it once but it wasn't a success. Instead, he just plays various fishing slots, writes about them, and then links to where people can play them. He now has quite a healthy side income from gambling – all without ever really promoting an online casino directly, or having to enter the competitive gambling affiliate world.
TV Show Websites
Much like the Friends example above, another website you could build is a website dedicated to a TV show. Ideally, this TV show has a slot machine based on it, although that is not always important.
There is a slot machine for The Walking Dead, so you could build a website dedicated to that show. With all the spin-offs going on with that show it doesn't seem it is ever going to die. So even this far in, you probably have a lot of longevity.
However, you can create a website for any TV show. Does anyone remember the TV show AlcatrazLost and aired in 2012. I started a website dedicated to it. I used to do weekly recaps of episodes and the traffic I got was very impressive – tens of thousands of people coming to read the recap the day after the show.
These aren't just fans of Alcatraz – these are people who like to watch TV. So I would promote TV show and movie slots to them. Just little ads within the recap. Now it's 10 years ago so I can't remember the specific slots, but various slots such as CSI or Sex and the City would work for that audience.
Quiz & Puzzle Games
Another great niche you could get into is Quiz & Puzzle games. There are a lot of slot games related to that such as Rubik's Cube or Deal or no Deal. There are also live dealer games that are similar to Wheel of Fortune which could entice that audience.
I guarantee it; if the New York Times started placing these types of ads on their Wordle page, they'd make back that money they spent very quickly.
The Possibilities Are Endless
All it takes is browsing an online casino's slot selection, looking for games that YOU would play based on the theme of the slot, then see if you could build a website around it.
One personal example; I'm a big Guns N' Roses fan. They're my #1 top favourite band. I even have a tattoo sleeve dedicated to GNR. NetEnt has a GNR slot which is a lot of fun and has actual licensed music in it. As a GNR fan, I've played that a lot purely due to my enjoyment of the band.
There's a couple of GNR websites out there but nothing I would be too concerned about SEO-wise. One even has a public tracker which states that over 45 million people have visited the site in the website's lifetime. That's a lot of people I could target, and entice with a GNR slot.
One thing to remember too is that these types of sites normally don't even focus on search engine optimization. They're simply passion projects by people who aren't looking to make money. This means if I really wanted to, I could probably enter into that space and start dominating GNR keywords within six months.
So pop onto an online casino, browse their slots, and see what one jumps out at you. Then think about how you can build a non-gambling website that would attract the audience for that slot.
Now if you'll excuse me, I'm going to go check if SweetWebsiteOfMine.com is taken….