Note: All Affiliate Program reviews are revised and updated on a monthly basis for total accuracy. This Betting Partners review was last updated on .
Betting Partners is the affiliate program for the Bodog brands, Bovada and Slots.lv.
I've worked with Betting Partners forever. Since April, 2006 to be exact back when it was just Bodog. There was some controversy in the early days that in hindsight I really admired – they would have quality control when it came to signing up. Not just anyone could sign up – and they would readily reject affiliates if they felt their website wasn't up to standards. Bodog would also open a dialogue with all new affiliates to learn more about their websites.
What this did was make it feel like an "exclusive club" – and it felt great to be approved. You'd see people complain on forums about not being approved, but then they'd put in the effort to be approved and would then push the crap out of Bodog when they WERE approved.
Another thing that has always stood out for me at Bodog is competence. Over the years, I've had many affiliate managers at Betting Partners. When I first signed up, Justin Johal was my affiliate manager. I've worked with people like Becky, Richard, Riyaz, Seb, Dana, Paul and so many more. Not once have I had a bad experience with the affiliate team there. Everyone is smart and knows what they are doing.
Their backend is very solid these days too. There's an absolute ton of marketing material available, and the reports are very detailed. They're updated regularly, and everything is very clear to read. You're able to set up unique campaigns, view traffic report by country, get daily customer activity etc. The transparency is great, and you can really break down the numbers with ease and see where all of your income and conversions are coming from etc.
From a conversion and retention perspective, they've always did an excellent job. I'd say about 30% of the customers I have who I referred through the sportsbook play at the casino on a regular basis for example. They offer live odds, flash casino games and an XML odds feed all within the backend too.
Overall, Betting Partners is one of my favourite affiliate programs. They're someone I've worked with since 2006, and when it comes to the sportsbooks, Bodog and Bovada are always two of my highest promoted brands.
I've never had issues with payouts at Betting Partners. At one point there was a slight delay, and they were quick to offer me information in regard to the delay and keep me updated. They offer up to 45% in revenue share, and focus only on a couple of brands which allows those brands to be as good as they possibly can be.
You can head on over to Betting Partners and sign up now, or keep reading if you want to read more of my Betting Partners review.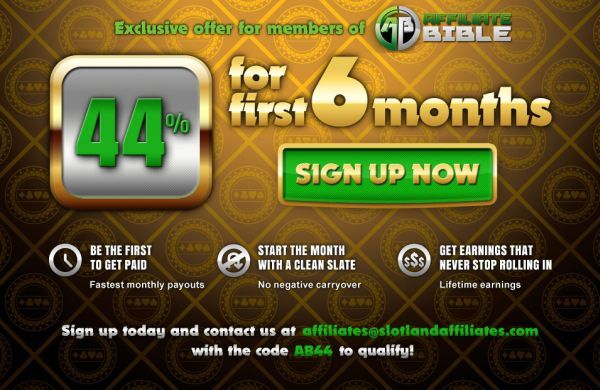 How I Promote Betting Partners brands:
I run various niche sports betting tips sites. Betting Partners offer unique landing pages so if possible, I'll use those as they convert like crazy. The conversion rate for the Bodog homepage is solid, but their NHL Landing Page on my NHL Tips site does an incredible job. Here is their landing page during the Stanley Cup for example: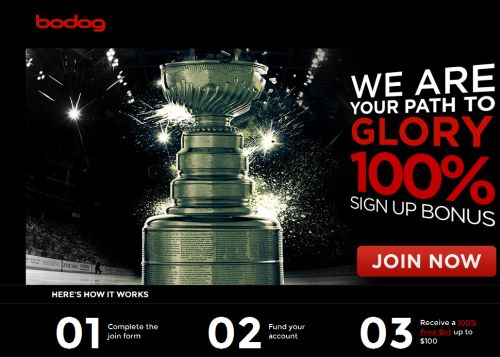 As you can see it's very simple – a 3 step guide with an offer of a free bet, plus a nice "Join Now" CTA to entice the user to click. Always works out very well.
How I promote them really depends – Bovada for example is easy to promote. They're one of the only US Sportsbooks and they are very trustworthy – so it's super easy to promote them to Americans.
Bodog – I generally just go with the same solid and trustworthy promotions. They've really got a lot to offer and that's what is nice – they have live betting, mobile betting, a simple free bet bonus, plus they offer unique promotions and they always work well. They had one last year for NHL where you had to pick each team to win over the month of November – it was called the Divisional Dynasty. It was great and I focused on that each day on my tips and had a ton of conversions from it. It was a light-hearted contest that really hooked people.
From the casino side of things – I again go with solid and trustworthy. I point out how it's a "catch-all" account and you can play poker as well as bet sports with your casino account. That always appeals to people. They use RTG but have some unique games, easy to understand promotions, a mobile casino and the "red room" VIP program which adds that level of exclusivity that people love.
I've been working with Slots.LV and I find the conversions/retention there is rather low. However they do have a lot to offer and they've been promoting that brand strongly. They also offer a no deposit bonus for that which is great.
If you're not promoting Betting Partners – well, I really don't know why. Excellent conversion and retention, amazing brands and a top affiliate team. Head on over to Betting Partners and sign up today.
F.A.Q.:
Do Betting Partners Offer CPA?
Upon request, and by discussing it with them only.
Does Betting Partners Have Negative Carryover?
Yes, unfortunately. For the record I've had my account go into the negative 2-3x since promoting them, sometimes into tens of thousands of dollars. However it's always bounced back into the positive. At one point it was into the negative for over $50,000 and Betting Partners were cool enough to remove the amount after a couple of months in return for me placing them in stronger positions on my sites.