July 1st, 2011:
TVStoreOnline has been removed from the blacklist at Affiliate Bible.
They were added previously due to some major customer service issues in October 2010.
TVStoreOnline got in contact with me in April 2011 to issue an apology and explanation for everything that happened in that period. I informed them that I would look into TVStoreOnline, speak with some of their customers and make sure there were no further issues.
After a couple of months, I can confidently state that the customer service issues TVStoreOnline suffered were simply a "blip". I have not seen any issues in the last few months. Instead, I've seen TVStoreOnline "up their game" so to speak, and offer even better customer service due to these prior issues.
I am happy to report that TVStoreOnline.com are no longer blacklisted here. I personally, would feel safe and comfortable in purchasing any items from TVStoreOnline in the near future.
I look forward to working with TVStoreOnline as both an affiliate and customer.
Thank you TVStoreOnline.com, for stepping up to the plate.
---
One thing that is very important as an affiliate is to know what you are promoting, and to be able to stand by it.  Whether it's an online casino or online retailer – you need to try it out, and see for yourself how good their services are before you start trying to sell their product to others.
I've been thinking about starting up a website which covers all TV & Movie related merchandise, and was going to use a mix of Cafepress and existing retailers for the stock listings, and for a price comparison feature.
Enter TVStoreOnline.com
One of the online retailers I was thinking of promoting was TVStoreOnline.com, a website which sells many TV & Movie related t-shirts.  So to test out their services, I placed an order for 4 of their t-shirts.  I also paid extra shipping costs so I could get the item earlier, with overnight shipping.
In Communicado
I placed the order for the t-shirts on October 19th, 2010.  I received an e-mail stating that the order was placed.  Two days later, there was no update on my order stating that the items were shipped.
E-Mail: I sent multiple e-mails to multiple addresses at TVStoreOnlinecom and didn't get a response.
Telephone: I called their telephone number, and it either rang out, or went to a voicemail box which stated the voicemail was full.
Facebook: I posted on their facebook group asking about my order.  Rather than respond to the comments, they simply deleted my and others complaints.
Time to Alert the Authorities
Or in this case – Paypal, and the Better Business Bureau.  I placed my order via Paypal, and the BBB had given this company an A+ rating,.  So I started a Paypal dispute on the 24th of October, 5 days after my order had been placed, stating that I had not received the items, and I could not get any sort of response from TVStoreOnline.com.
I also contacted the BBB, who could not get the company on the telephone, and promptly removed the A+ rating that they currently had, which I thought was really cool.
Progress?
The paypal dispute worked, and on the 26th of October my items were shipped, and arrived on the 28th of October.  This was 9 days after my initial order, and after I had paid extra money for faster shipping.
I should note at this point TVStoreOnline hadn't once contacted me about the problems to apologize or keep me updated.  I only received an e-mail from FedEx, letting me know the items had shipped.
The order arrived and one of the t-shirts was incorrect – a completely different t-shirt than the one I ordered.
I attempted to call them about the error, and received no response.  I e-mailed them about it, and no response.  I posted on their Facebook as did others: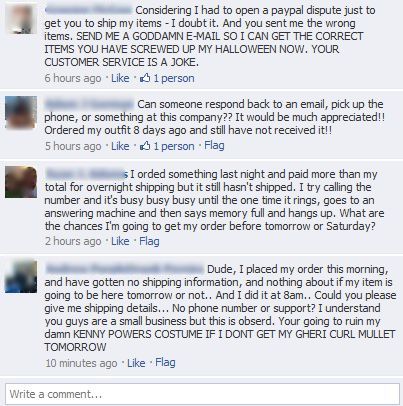 They responded to that – by deleting all negative comments, and blocking anyone who made negative comments from being able to post on their Facebook.
My only option at this stage was to go back to Paypal.  I took my case to the resolution center, which would hopefully force them into a response.  The resolution center at Paypal is where Paypal let both sides state their cases, then come to a decision.
I didn't expect much from this to be honest.  I've had a few issues with Paypal as have many people over the years, and I wasn't confident that they would resolve it to a satisfactory conclusion.
Victory!
A week after I had taken my case to the Paypal Resolution Center, I received an e-mail from Paypal stating that TVStoreOnline.com hadn't replied to them at all, therefore they were refunding my purchase price in full.
All it would have taken was a simple e-mail from TVStoreOnline to resolve this – yet instead they spent their time playing censor with their Facebook group.
So if you're thinking of purchasing or promoting TVStoreOnline.com Products then all I can say is don't – they are a complete scam of a company, and are a welcome addition to my affiliate program blacklist.
UPDATE:
On April 4th 2011 I received the following e-mail from Mark Hathaway at TVStoreOnline:
Hello,
It is with great regret and concern that we came accross your blog detailing the problems that you had with our service.
First of all, I would like to make an apology on behalf of TvStoreonline. There was a problem with servicing orders and customer service during the time frame that your order was made (Halloween season 2010). Let me assure to you that we took all the steps needed to resolve these issues. Including, all new management, a new warehouse, and a training program for our customer service representatives.
Our company has always valued its association with its customers and hence in case you have any other feedback about our services, feel free to contact me personally. We look forward to continue our valued association with you.

I appreciate the fact that they are admitting things went wrong, and I have informed Mark that in the future I will test them out again and if everything goes smoothly, will consider removing them from the blacklist.