I've written about it here before but all of my work revolves around "to do lists".
I have 3 sets of to do lists. I have:
Daily TDL: This is a daily to do list for myself which usually takes up my morning. It has the same set of items on it every day(ie: write NHL Tips) but then unique jobs on different days as well. On Tuesdays for example, there's "Write Golf Tips" for Golf Betting Tips. On Mondays, Wednesdays and Fridays I have "Add new events to YGKEvents.com". Essentially as long as I complete my daily to do list every day, I'm 100% satisified with the work I've put in that day and it leaves the rest of the day open to do what I want.
Monthly TDL: The beginning of the month is always a busy time with me as I have a 100+ item monthly to do list. There's a lot of things on it – some jobs for myself, some outsourcing jobs. For example to get content written for some SEO blogs, or to outsource 30 slots reviews for the next month for SlotsBuddy.com. This usually burns up the first week of the month for me work wise.
Website TDLs: These are individual website to do lists. I've been pretty swamped the last couple of years and so I have individual to do lists for each website. I'll see something that needs fixing or I'll think of something that needs added onto a site or modified and I'll add it to that to do list.
I'm at a ridiculously awesome stage with my work at the moment – my websites to do list is down to just THREE to do lists. 6 months ago there was more than 15 to do lists. That includes AffiliateBible.com. (Casino Answers and YGK Events are the other two). Once I'm done those three to do lists – man, my whole daily schedule changes. Essentially I can do my daily to do list every day then be done for the day if I want. It's awesome.
That won't be the case of course – but instead I'll use the freedom of time to focus on some bigger projects. The sort of project that will take a month or more of work to do. Now I'll have the time I'll be able to do that.
One thing with the Affiliate Bible To Do List is I come up with random blog content ideas on there, or I start writing a T_IM and throw the content on there. However for whatever reason – due to time constraints usually – I've not managed to turn it into a finished article.
So as I clear up that to do list, what I've did is basically take all the random crap I wrote on there and clean it up and throw it into multiple blog posts over the next few weeks. So without further ado here's part 1….
April Fools:
Lindar Media, a company that operate some big bingo brands like CircusBingo.com and PixieBingo.com did an April Fools joke – creating a site called Square Bingo with the whole premise being square bingo balls which was pretty good.
They recently went in-depth as their reasoning for doing so and it's a pretty interesting article to read. They go into detail about how must "new" bingo sites are just a new skin on an existing site basically.
I stopped really promoting online bingo years ago. I just wasn't happy with where that industry was going – especially in the UK. I've always felt brand loyalty is a big thing with bingo rooms – bingo players love to support one room and play only there – and they use the chat room to make friends etc and playing bingo was actually second to social networking for a lot of people.
However it feels more and more like many bingo programs don't understand their player base, and are ready and willing to abandon them as they try and push them to another room etc.
Disappointing to see where the online bingo industry has went. There's a few good ones still out there though – but it just feels like most operators don't quite get it.
Ice Bucket Challenges:
This is how old some of my notes are – I have a whole bunch of notes on how companies can capitalize on ice bucket challenges for marketing. Almost 2 freaking years ago!
Anyway I basically had a big write-up on how coke should do an ice bucket challenge but using Pepsi because it's just as crap as water, and that McDonalds should use a bucket full of big macs just for the uniqueness of it all and because it'd go viral.
In case you're wondering the answer is yes – I do write a lot of random notes in the middle of the night at 4am, and waking up in the light of day promptly trash them.
The Fundamentals
It amazes me time and time again when I see people ignore the basic fundamentals of how people browse a website.
More and more websites these days that I visit – upon INSTANTLY visiting it you're hit with a popup.
Here's a common mailing list popup you'll see on a website: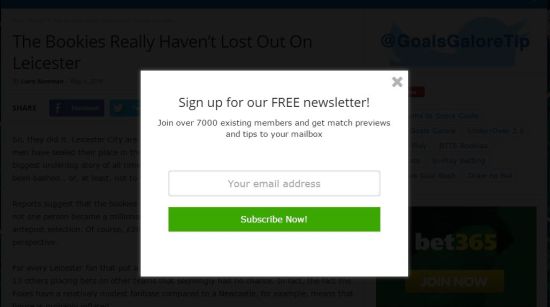 Of these two situations, which is the more likely to happen:
Situation A:
(1) User clicks on a link to a website via Facebook to read an article. First time ever visiting the website.
(2) User receives the above popup immediately upon visiting. User subscribes to mailing list.
Situation B:
(1) User clicks on a link to a website via Facebook to read an article. First time ever visiting the website.
(2) User reads the article.
(3) At the end of the article there's a CTA to subscribe to read more, or that mailing list pops up.
(4) Having read and enjoyed the article, and being enticed by more quality articles like that – the user signs up.
Guess what? It's always situation freaking B.
Now I don't fault people for doing that CTA right at the beginning. I'm sure they grab SOME people if they have enticing wording. But here's what blows my mind – after that initial CTA, most places have no other mailing list CTA! I repeat – they're that desperate for signups they will harass the visitor immediately upon visiting but then they either don't follow up on that at all, or make the website visitor WORK to find it. And guess what – they won't do that extra work. They'll close your website and forget it ever existed.
Here's what ends up happening:
(1) User clicks on a link to a website via Facebook to read an article. First time ever visiting the website.
(2) User reads the article.
(3) At the end of the article there's a CTA to subscribe to read more, or that mailing list pops up.
(4) Having read and enjoyed the article, and being enticed by more quality articles like that – the user wants to sign up. Except there's no CTA anywhere to be found. Just affiliate links and sharing links. So the user leaves.
I mean seriously – stuff like this is moronic yet I see it day in, day out. I say it time and time and time again – but take some bloody time to sit down and visit your website from a random users perspective and REALLY figure out how your website functions in their eyes.
Thank Apple It's Monday:
I always enjoy those stories about parents whose kids have ran up thousands of dollars of in-app purchases on their tablet or phone. They hand their tablet off to their kid for a few minutes to keep them quiet – and next thing they know, they have thousands of dollars in credit card charges on their account.
It always amazes me how unaware people can be when it comes to things like that. I mean the first thing I do with any new electronic system – be it an XBox, Phone or Tablet – is go through and check the restrictions etc and make sure something like that CAN'T happen.
Or so I thought.
A few months ago, I bought an iPad. This is the first iOS system I've ever used since the original ipod and ipod video back in the day. Now when I set it up, I set it up to prompt me for a password. And honestly whenever I use it – it drives me absolutely insane. It seems like I can't run a bloody app without it prompting me for the password – TWICE. It annoys me greatly – and I assumed that like all my other devices, it was safe from those crazy in-app purchases that others fall for.
But yeah – I'm a freaking moron for thinking that because I woke up the other day to this – click for big: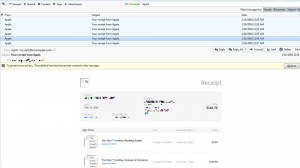 Over $1500 worth of charges – all made in the space of 5 minutes in the Sims.
Awesome.
I guess my iPad was set on the 15 minute rule – so when you enter the password in the iTunes store, you have 15 minutes to go on a spending spree within other apps. Apple have rolled out a lot of controls and restrictions to stop all that – but it was unfortunately off by default.
It was a really nice lesson learned though. When I told some friends about this they immediately responded "of all people this would happen to you – I'd NEVER expect it to happen to you". But it's always nice to get a nice dish of humble pie every now and again.
And thankfully Apple were cool as all hell about it. I brought up their customer support while already googling what happens to your apple account when you do chargebacks and I was prepared for a fight – 5 minutes talking to their live chat and all charges were refunded.
Major props to Apple for that.
That's all the ramblings for now – back next week with more!