I'm a big fan of Disqus – well, sort of. I'm more a big fan of the idea of a universal comment system, and have adopted Disqus across my websites.
I'm not a big fan of some of the things they do though. They seem to go with the whole "it's better to beg forgiveness than ask permission" mantra which can be annoying as hell when you glance at your comments and see Disqus has decided to add some new money making technique which involves links to 30 other sites listed within my comments.
I recently discovered something very disappointing about Disqus though – they don't delete spam comments. Worse – they simply hide them.
Hidden text and links are a clear violation of Googles Quality Guidelines and while I'd like to think they've seen this enough to know it's a Disqus issue – I'd rather not leave the fate of my websites in the hands of a bunch of robots.
Here's an example of how this works.
I ran a check on one of my websites today with Xenu Link Sleuth. I was looking for 404s mainly while also checking to make sure there was no URLs in there that there shouldn't be.
I came across this one – click for big:

So I check the properties, and it says it is on my Robert Ludlum page. Okay great. I go there and….nothing. No link. Not in the article. Not in the comments.
So I view source and what do I see? Again – click for big:

Yep there it is.
But that's weird – isn't it in the comments? It SAYS it's in the comments right in the source. Let's check again: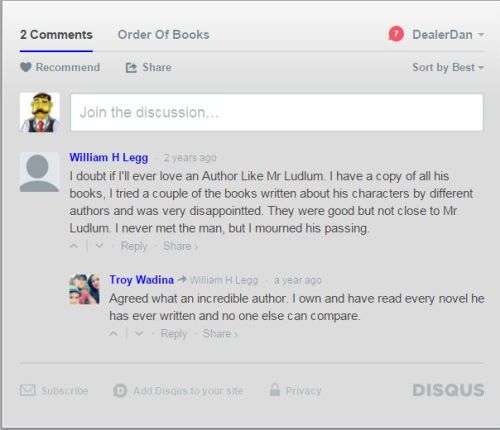 Nope.
See – when this comment was first posted I caught it right away and I selected to delete it as it was spam.
Except Disqus doesn't delete it.
It just hides it.
Now some people might be thinking "Well it's a nofollow link so what's the big deal". If you think nofollow links don't matter than I've got a bridge to sell you.
I went into my Disqus Admin and searched and there it was – that comment. And there was the options to "Mark as Spam" and "Delete" even though it was already set as deleted. I tried both – and nothing worked.
How To Fix This:
Fixing it is actually quite easy – but another example of how bizarre the Disqus system is. It connects with your WordPress database with the comments – but I don't believe it phones back. So if you ever uninstall disqus every single comment ever posted that you marked as spam or deleted it via the Disqus admin system? Will show up on your site!
So in my WordPress backend I went to Comments->All Comments.
From there I did a search for "Bourne" and I found that comment.
I chose to send it to the trash from there then deleted it permanently. And THAT was the only way to get it removed from the Disqus database.
So take some time today to run Xenu, go through your sites and look for comments and links hidden away in the source.
You never know what crap Disqus has hidden away.