Man, what a crappy Summer we have been having.
The weather here in Ontario has been BEYOND brutal. Usually it's hot and humid 90% of the time and just beautiful – instead we'll have maybe 1 hot, sunny day followed 3-4 days of rain and thunderstorms. Then 1 hot, sunny day where everyone you meet will say "Summer is finally here" followed by 3-4 days of yep…rain and thunderstorms.
Every Summer, we usually rent a cottage at an area close to us for a week. Due to how bad the weather is, we didn't do that this year. Instead when the fair went up there for the weekend, we went up and camped out in a tent for the night. And what happened? You guessed it – rain and freaking thunderstorms. Woke up at 3am with rain dropping through the tent, and mighty thunderstorms and lightning overhead.
It's the kind of stuff that you can sit around and whine and complain about – but it's the whole "life gives you lemons so make lemonade" thing right? In that situation, rather than complain about the crappy weather and go into a rage, you instead talk to the kids about what a cool experience this is – laying outside, looking up at the sky as mother nature goes to work with its very own light show.
Same for the weather overall. Rather than complain about it, I'm embracing it and loving it. Usually I take the majority of the Summer off, doing only the bare minimum when it comes to work. Due to the crappy weather? I've instead embraced work, and feel so far ahead it's ridiculous.
I mean any affiliate marketer probably knows this – we all have domains on our list. Domains we want to get developed into websites. Ideas we want to become reality. But due to time constraints we're never getting it done, right? Well thanks to this bad weather, and all the time on my hands, I'm actually able to do that!
And on top of that – we've did a lot of new projects lately, and enhanced existing projects and websites. It's been a busy, busy year for me. But thanks to this crappy Summer? I've been able to get back on track, and am nowhere near as busy. Meaning I've been able to read more(3 Stephen King novels FFS), play more XBox, and start watching TV shows/movies again, and do more stuff with the family.
It's all about perspective.
Plus to be honest – I can't stand all that humidity anyway. Bring on the rain! If this is due to global warming I'm going to stop recylcing!
Great Marketing: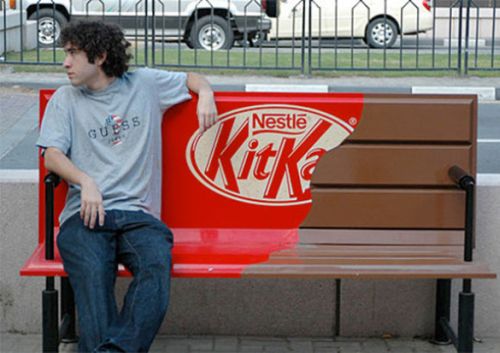 So bloody simple, yet so bloody great. What I like most about that is how it went viral and was shared around like crazy. Sometimes marketing is just the easiest thing in the world, isn't it?
I know it's made me want a kit kat.
Spam:
On CasinoAnswers.com every article has a "Submit a Question" feedback form without a captcha, but with only a Name and E-mail field and no URL. So I'll get a fair bit of spam mail that is hit by my spam filter.
However some mail gets through – it's where it's just a completely generic message. Just totally random and very rarely even close to the page that they are writing from – but it freaking kills me. I get about 30 of them a day and I read each and every one and love it. Like here are a few:
On the Caesar Salad Video Slot Review:
I will not be in the area Mr. Bailey,but It would be a pleasure to meet you, and for you to speak in Buffalo, NY. My quteoisn is how do you get people (friends) to take you serious. We often want things done for free.. I am a victim of this, being honest! sometime depending on a 15 and up friendship. I'm nice and when people ask for advice I give it. I give away free business a lot. Hoping you respond,Ms.Elle
On the Q&A "What Does the Button Mean in Poker?":
Public Enemy When I originally cemnemtod I clicked the -Notify me when new feedback are added- checkbox and now every time a comment is added I get 4 emails with the same comment. Is there any approach you can remove me from that service? Thanks!
Or this one:
First time commenter here.I deedcid to comment on this because this hits very close to home. Literally. I live in Laredo Texas which is across the river from Nuevo Laredo, Tamaulipas (which is a very dangerous and corrupt city) in Mexico. Situations like this have happened, and I hear about it almost everyday. It is very sad, but true. many networks in mexico do not report on incidents because they're scared of any backlash, and several have publicly stated they will not make reports. Several times the cartels have printed huge warnings/threats and hung them from our international bridges..along with victims. Many reporters have been abducted and killed. Just a few weeks ago 14 dead and chopped bodies were found in front of the town hall here in Laredo. Anyone traveling to mexico please be careful. The terrorism is and has already crossed over and will spread. The real problems aren't over seas, they're closer than you think.
That great one was posted on the SHOPPING SPREE Slot Machine review. Yeah I can imagine that review hits really close to home.
Obviously it's just bots that are copying comments from elsewhere and attempting to post them on my site – but man, it kills me every time. Not sure why – but it's just a highlight of my day as I pretend they are real people writing this nonsense.
Oh and if you're sitting there thinking "Just add a Captcha" then you are an idiot.
Perseverance:
Like practically anyone, I will occassionally have a "bad day at the office". It happens. Sometimes it's financially – that $3,000 in net revenue casino account dropping to $200 on the last day of the month etc. Or sometimes it's just a bad day because the world has decided "Yep, we hate you today".
I had one of those last Tuesday. First, I slept in. No idea why, but my normal 8 hours turned into 9 and a half hours. Always gets me off to a bad start. I came downstairs and logged on – and my internet wasn't working. It was working on the other computers etc – just not on my computer. So I had to reboot. Then an hour later – same deal, internet died just on this machine. Had to reboot again.
Then my computer speakers died. I've had these speakers for probably 13 years so I can't complain too much – but it was just adding on to a day that was already crappy.
As if that wasn't enough, while in the middle of work this happened: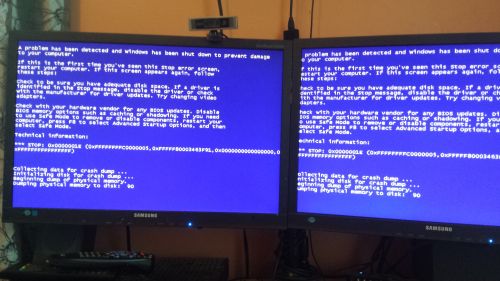 Yep, a blue screen of death. I can't even remember the last time I saw this. But it was just yet another kick in the nuts on a crappy, crappy day.
Obviously these are "first world problems" – but it's still crap that affects you. I've had much worse days at the office – soul crushing days(ie: UIEGA, Black Friday), but all these small things in a row can really tear away at you.
It really felt like the universe was telling me – call it quits. Take the rest of the day off. And the great thing is I have the luxury of doing that if I want. And I really did consider it. I've did it before.
But for some reason, I decided not to. I decided to persevere. I said "F You" to this crappy day, took a quick coffee/smoke break and went back to work.
And man, it felt good that night.
All of those problems were minor – but it's still a good message, and a good reminder. When life craps on you – work through it.
Regardless of how it works out, you'll sleep easier knowing you did your best.