Welcome to TSIM – Thank School It's Monday.
In just two short hours, I'll be making the trek upstairs, where I will proceed to wake up my kids and wife. Then I'll be making their lunches, and sending them off on their merry way to school. For the first time in a month(Christmas holidays, wife studying plus each kid being sick) I'll have the house to myself.
I can't bloody wait.
Don't get me wrong. I loved the Christmas holidays. I loved spending time with my family. But man – there comes a time where you just want to tune the world out and get into your own little zone.
I had a great Christmas break. We did a ton of family stuff together. Hockey games, Chuck E Cheese, Charades, board games, building snowmen etc.
But it's now time for them all to F off and let daddy start working. SOMEONE needs to pay for all the crap "Santa" brought this Christmas.
Two hours. Then silence.
I can't wait.
Although…
I do feel a bit bad. I have been looking forward to today with a lot of enthusiasm. So much enthusiasm actually, that I didn't even think to consider my wife or kids feelings on the matter.
It wasn't until last night when we were putting them to bed that they mentioned they weren't looking forward to today. And I was like "WTF? WHY?" Then I realized that yeah – they just had holidays, and now it's over and they have to go back to school.
That really sucks.
I remember as a kid having to go back when the Summer or Christmas holidays were over. Man, was that a depressing time. And it's not like it ends when you become an adult. I'm off to Mexico at the end of the month – me, my wife and another couple, for a vacation. The day we come back is the Superbowl. So I'm all busy planning out a Superbowl party for the day I come back, and then figuring I'll take a few days off just to relax and recuperate.
My friend says he won't even be able to watch the Superbowl as he'll have to get ready to go back to work the next day – he's in the UK so there'll be some nasty jetlag/timezone issues.
I try to always appreciate what I have and not take it for granted – but that whole freedom aspect when it comes to the end of vacations really slipped me by.
I think I'll be slipping a little chocolatey treat in the kids lunches today.
Tech Stuff:
Over the Christmas holidays, I made a few upgrades to my tech setup and figured I'd share.
New Mouse: I've been using the Logitech G7 for years. It's a really, really sick mouse. However my kids have been using it too, and with it already aging it was really starting to show wear and tear. All the pads were ripped off the bottom of it. Unfortunately Logitech discontinued the G7, and despite getting in touch with some higher ups at Logitech, I just couldn't get me another G7.
I went with the Logitech M510 but man – that was a piece of crap. It was around the same size as the G7 but there was HORRIBLE jerky movements, and trying different USB ports and different mouse pad textures didn't fix anything. I ended up going with the Logitech Anywhere Mouse MX. I was a bit hesitant as it's like half the size of the G7 but man – you get used to it. This is a really sick mouse that you can use on practically anything. Love it, and highly recommend it.
New Webcam: I was running with some old Logitech device from years ago. I ended up upgrading to the HP HD5210 Webcam. Oh holy crap. The difference in them is just ridiculous, and the quality of the webcam is amazing. If you're in the market for a new webcam I'd recommend checking that out.
Android on a Stick: If you've never heard of this – it's basically an Android OS on a USB key-like stick. Has an HDMI port and all that – a tiny little device you can hook up to your TV and use Android. I watch a lot of sports on TV while working but with no NHL at the moment I was getting a bit sick of the lack of variety. So I decided to get this so I can watch Netflix on my office TV. It's pretty freaking awesome: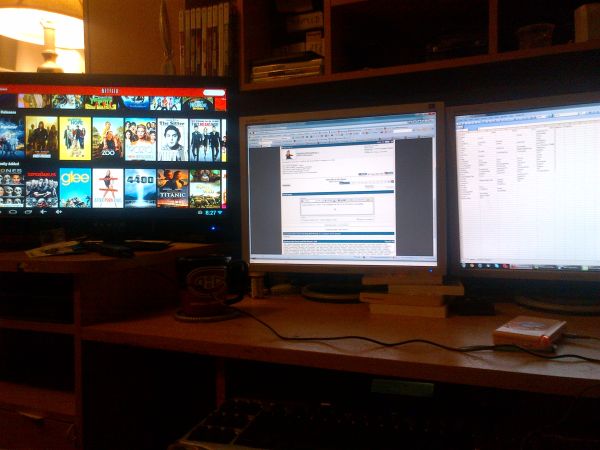 And it's just one of those little gadgets I'd recommend as you never know when you'll need it. Fun to take to a hotel or something, and be able to watch Netflix on the big screen.
Shit That Kept Me Sane Last Month:
A new trend in these updates that I started in December. I go through any media that kept me sane in the prior month, then write about it!
TV Shows: I finished up Mad Men. What a great show. I also just BLASTED through It's Always Sunny in Philadelphia. One of the funniest TV shows I've ever watched – probably second to Arrested Development. I was so sad when I was near the end of it and I kept trying to stop watching – but just too good that I couldn't stop.
I like to have two TV shows on the go – a "serious" one and a "comedy" one. I got pretty ill during December, and I ended up watching Rules of Engagement on Netflix – the sitcom starring David Spade and Puddy from Seinfeld. Decent enough sitcom I guess. They really do insult the intelligence of the audience at times, but that's standard for most sitcoms. Watched the first two seasons of that.
Also watched the pilot of The League. Enjoyed, and will be watching that this month.
Hoping to start a new "serious" show this month. Possibly The Walking Dead.
Movies: I need to watch more movies. In December I watched exactly two. The Dictator, which was a lot better than I expected. I really wasn't expecting anything much from it, but it was quite funny. Also the Adam Sandler movie That's My Boy. Another one I really wasn't expecting much from, but was pleasantly surprised. The jokes come fast and furious and there is a LOT of misses, but enough hits that I really enjoyed it.
Video Games: I didn't play much for most of December, then I went out boxing week shopping and bought a ton of games, as I mentioned last week. I initially was going to start playing Far Cry 3, but I ended up getting absolutely HOOKED on Dishonored. Holy crap what a game. If you like games like Bioshock, GET THIS. Fantastic bloody game- although the story is a bit weak and the ending is up there with RAGE in terms of weakness.
Books: In November I read the first book by the author Tom Cain. I ended up reading the 2nd and 3rd books, No Survivors and Assassin. Both really good.
I also re-read Dirty White Boys by Stephen Hunter for about the 6th time. One of my favourite books ever. I also read Vince Flynns latest book in the Mitch Rapp series The Last Man. As expected, fantastic.
However the biggest surprise was The Racketeer by John Grisham. I used to love Grisham but I felt his political messages were ruining his books and I was ready to stop reading. While in bed with a high fever and sick as all hell I just decided to give him a whirl again with his latest. Holy crap I couldn't put it down and read it in about 5 hours. If you were/are a Grisham fan, be sure to pick that up.
Welcome Back NHL:
We went to a couple of OHL Games over the break.
Here is my daughter prior to the game: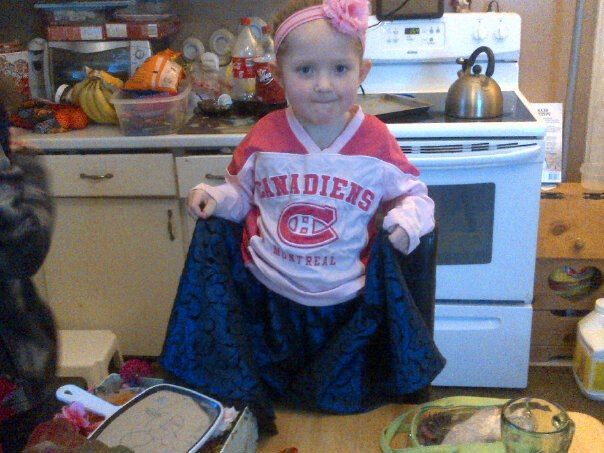 And here she is with 5 minutes left in the first period: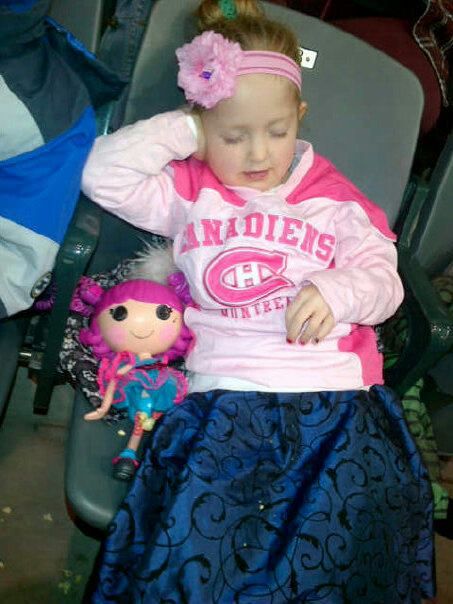 That's NEVER happened during a Habs game. Thanks for getting your shit together NHL. And aren't the people screaming that they are going to boycott just hilarious? The NHL is going to do record ratings and attendances this year. Stuff your boycotts. The people mocking the whole Mayan Calender thingy were less annoying than those twats.
I'm off to prepare lunches, get everyone the hell out of the house, then FINALLY start my 2013 To Do List.
Rock on, people.