Something that's becoming more and more popular these days is adding a mascot to your website. It can make your website stand out, it can personalize your website, or it can be used purely for branding purposes.
I've tried many mascot people over the years, however recently I found someone who I have to say I am EXTREMELY impressed with. Honestly everything about him is phenomenal: his prices, his work, his turnaround time and his communication.
His name is Barry, and he was recommended to me by a friend. We've had him do two mascots and we've been very pleased with both of them, to the point that I wanted to make this post to promote his work.
What I really liked about working with Barry is how easy he makes it for you – I've worked with some mascot designers that need you to describe everything to a tee, and others who completely ignore everything you said and do what THEY want.
With Barry we were very vague in one mascot description, and then slightly more detailed in the other mascot description. Rather than just tell you the work I thought I would share it here.
For the first mascot, we wanted a mascot for a roulette site that we are building.
This is exactly what we told Barry:
""Black spiky hair, kinda a cool guy. Maybe shades. Wearing a suit."
Vague, huh? I could give you the names of at least 3 graphic designers who'd reply to an e-mail like that with various curse words.
Yet he managed to nail it right out of the gates: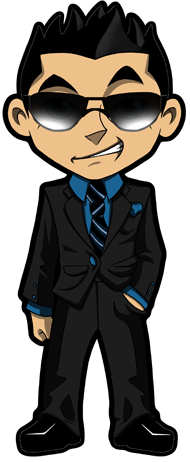 The second mascot we needed was for a pizza company website which we have investments in. We had an existing mascot that looks like it was copied and pasted from a Clipart CD from 1997. Here's that mascot: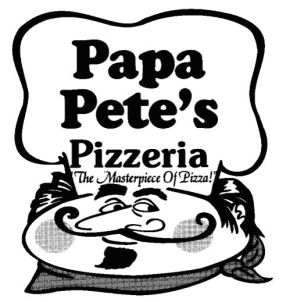 Ain't that something else? The description we gave to Barry was as follows:
– In colour.
– Face similar to the current face.
– Hat blank.
– Body attached to it, a gut on him with a chefs outfit.
– Not a straight on shot, slightly at an angle.
I received this today: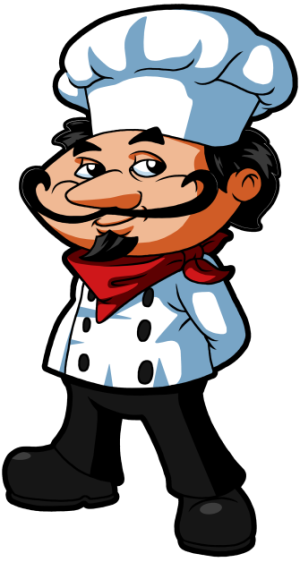 I'll be using Barry for any more mascot work and I highly recommend if you're looking for a mascot, you give him a try. You can contact him at chizelman360@yahoo.com and be sure to let him know Dealer Dan referred you.
---
I also just wanted to add a note about articles – I'll be returning to a regular schedule for posting articles next week, and from here on out I'll have articles up every Monday, Wednesday and Friday plus the odd blog post here and there. I've got a queue of articles lined up discussing some great topics, and one I particularly enjoyed writing was "If I ran a Poker News website…". It may surprise you, but when you run a poker news website one of the LEAST important thing about the site will actually be the poker news. It's the OTHER pages that are important, like a page on real money poker for example.
Anyway – lots of articles from next week onward, and hopefully the announcement of a new website that I'm working on!