Welcome to TMBIM – Thank March Break It's Monday.
What exactly is March Break, and why are we thanking it? Well next week in Canada, the schools are closed for a week, which means my kids are going to be off school all week. Unfortunately my wife won't be, so it means I'm forced to take a week off from work.
Whenever life gives me lemons, I always do my best to make beer out of it, and that's the case here. It's a forced vacation from work which is great, and I'm going to take full advantage of it, and thoroughly enjoy myself, having a great time with the kids.
In the meantime, knowing I have a week off I'm going to do what I love to do best – have a week of just non-stop, name-taking, ass-kicking work ahead of me.
Ready for a big week? I know I am. Let's get cracking.
Betfair
Let's start off on a great note – my payment issues with Betfair were resolved, and I got paid the money I was owed.
There was never any doubt that I would get paid, but it was frustrating how long it took to do so. Thankfully it's all resolved now, and hopefully going forward continues to be a smooth process.
Fun Night
John from gaffg.com was passing through my city last week, and stopped in to spend the night. I took him out to the local Scottish pub for some haggis poutine. Yes, there's actually such a thing and it is delicious: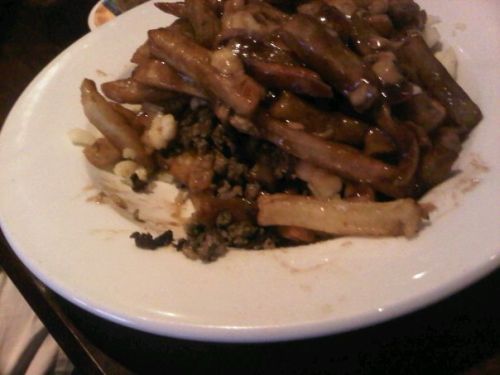 After that, it was off to a different pub where we drank the night away. John reminded me that he also owed me lunch. You see, last time I saw John was in Montreal when we met up to go to the F1 Racing last year, and he had recently just launched gaffg. He was proud of the fact that he was ranking #1 for terms like Interpartners Review, so being the ass I am I challenged him to a free meal if I could outrank him for the term within a week.
Well of course, I won the challenge(thanks in part to Interpartners hooking me up with a link from their homepage – hey, I never play fair!) and won the free meal. I cashed that in at Tommys Diner in Kingston the next day, as we went out for Eggs Benedict.
After that, John stuck around for a few hours. We watched the England vs Holland game, and John even came to help pick my kids up from school. My daughter was quite taken with John: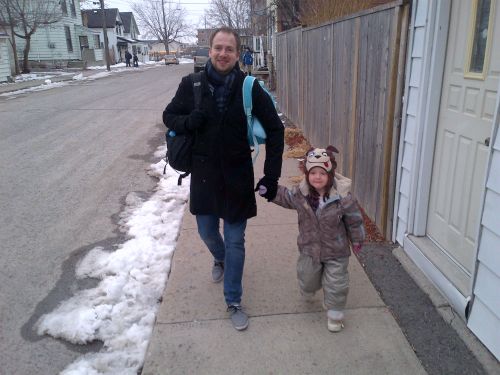 She can be quite shy, so afterwards I asked her why she wanted to hold Johns hand(which she held the whole walk home). Her response:
"Because I love him."
So there you have it John. Just gotta wait about 14 more years and you can be my son-in-law!
John's got a new project on the go right now that I'm really excited about watching, as I think it's going to be amazing. It's an F1 Betting Tips site, and his interest and passion into F1 should really shine through on the site.
Honestly, there's nothing more I enjoy than seeing an affiliate with a passion. I deal with so many sub-affiliates who are in it purely for the money. So it's always refreshing and great to see someone psyched about a website, and that shines through in the work that they do.
New TV Setup:
I've had a dual monitor setup for years. One thing I've always wanted though was a nice big TV on my desk while I work. Previously I had a much smaller TV, and then I used my laptop to watch stuff as well, but I wanted to get a much better setup to make it easier to watch sports every day.
Ended up picking up a new TV late last week: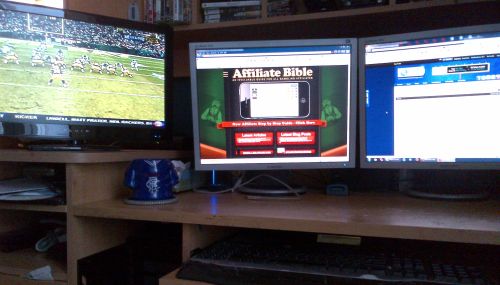 The difference it makes is unreal. Previously using my laptop I find I had to focus a lot more when watching sports and trying to work. Now it's more of a "background" thing that I'm always paying attention to. Works really well, and I'm already finding it increasing my productivity.
Or at least that's what I tell my wife!
Hostgator are Awesome
When it comes to the best web hosts, I ALWAYS recommend Hostgator above everyone else. It's not just because of the great prices they offer or all the options they have – it's because of their customer service. In the last 15 years I've dealt with over 20 different web hosts, and none come close to the customer service that Hostgator offer.
Last week, they reaffirmed this. Sometimes sadly, your server goes down. It happened to me last week…probably the first time in six months. It was only down for about 15 minutes, before Hostgator manually rebooted it for me and it was all working again.
What really impressed me though was their response. They could've just said "that's it fixed" but instead they provided this incredibly detailed reply to my "please reboot my server" support ticket:
Hello,
Your server is back up and running at this time, responding to ping, SSH, and Apache requests. It appears to have crashed previously due to running out of memory, though unfortunately I am not able to determine the exact program or script responsible using the information on hand.
I did notice that your server had some issues making outbound connections and performing DNS lookups around the time it crashed, which may have aggirvated and worsened the memory shortage, causing the Apache and other requests to just build up. To prevent this I've implemented a new set of DNS resolvers on your server, so that if one of the resolvers goes down, like what appeared to have occurred here, it will just try to use the very next resolver.
To ensure we can properly isolate the cause in the future, I've installed and started our system snapshotting script on your server to log a lot more diagnostic information. If the issue recurs and you find your server unresponsive, please open a new reboot request and in the instructions mention that sys-snap was running previously, so we properly parse through those logs after getting the server back online.
Seriously, just awesome, and the type of company that respects you as a person, instead of just "another customer number". If you're looking for a new web host, I can't recommend Hostgator enough.
Bodog.com
You probably all know now that Bodog.com was seized by Homeland Security…the worst thing is I could have been on the one breaking this news story!
The story didn't actually break until Tuesday morning. I actually found out about it on Monday morning. I was doing some research on Bodog/Bovada and I went to visit Bodog.com and got that lovely message.
Sad thing? I didn't realize it had just been seized. There's been so many domains taken, that I thought it had been seized months ago! So imagine my surprise when I start seeing news stories crop up about it 24 hours later.
Could've got me some nice backlinks out of that. Oops.
CNN Advertising:
One website I visit often is CNN.com. I visit it purely as a quick look at the latest headlines, and to make sure the world isn't ending or anything.
What impresses me about a website, is when you've visited it thousands of times in your life, yet they still manage to make you stop and say "Whoa, I notice the advertising". This is the typical CNN homepage: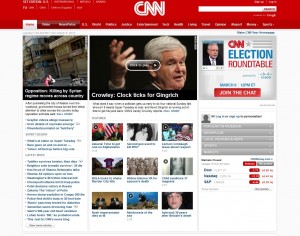 I'll usually go there, my eyes will ignore the center and right columns, and focus immediately on the left column, which is where all the news is.
Then last week I visited and my browsing habits were immediately broken, due to the ads that they were running: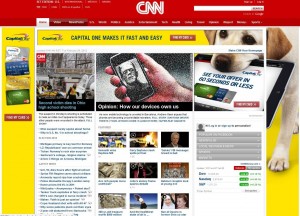 To me, that's really awesome. First of all, it stands out in a BIG way. It's impossible not to notice. More importantly however – it's SLICK. It's not just "Let's throw up a few banner ads and hope for the best". It's designed with the CNN homepage in mind. Look at the intricate design elements, and how all the ad areas, especially on the right side, are set up.
If you've got a website where you get a lot of repeat visitors(such as a poker strategy website), think about doing something out of the box like this. If people are used to your design, you can really wake them up with something as slick as this.
That's All Folks:
Big work week ahead, including quite a few Affiliate Bible articles to write. And of course, the new Affiliate Bible design to work on!
Have a fantastic week. Make it your best work week yet!