Well, I guess I picked the wrong day to quit smoking!
Your DNS Servers may not have updated yet, but as soon as they do you'll most likely see this message on the homepages of Full Tilt Poker, Absolute Poker, Ultimate Bet and Pokerstars: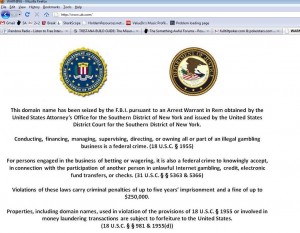 (Click for big)
There's also a copy of the Indictment here.
In essence, the domains have been seized, and 76 bank accounts spread over 14 countries have been issued a restraining order.
This is bad.
This isn't anything even close to the Bodog domain name situation. This isn't even remotely similar to the Cake/Kentucky situation.
This is worse than the UIEGA, and it has the potential to be very, very bad.
At least in the short term.
This isn't some "fly by the night" decision by the Department of Justice, trust me on that one. This is something that has been in the works for a long time. I had heard rumblings from a source about this recently, but had no idea it was going to be on such a grand scale and I'm still struggling to get my head around it.
However this is something that shouldn't come as a surprise to anyone – something like this was always going to happen, and I'm honestly surprised it's taken this long since the UIEGA. I'd like to think that the owners of the poker rooms have been preparing for this – although I'm not at all confident of this knowing the methods they have used to circumvent the UIEGA.
The worst thing you can do is panic. I've went through the dot com bubble burst and I've went through the UIEGA to know how it all works. The worst thing you can do right now is sit around reading forums all day, posting on them and acting emotional, whether it be to forecast the "end of the world" or to try and spin things in a positive light.
Very few facts are known at this point of time. The best thing you can do is react and throw yourself into your work. Have non-gaming website ideas just sitting aside gathering dust? Time to start working on them. Have Full Tilt, Pokerstars and UB as your top rooms? Time to drop them(at least until the dust settles), and start pushing other rooms.
Every cloud has a silver lining. Use this as a motivator and get your asses in gear – and work your asses off! As for this whole issue just sit back, and look at how it all plays out and react accordingly.
This isn't the end of the world. It's just a new chapter. It's thinning out the herd.
This is the motivational boost you've been waiting for.