The Referback Affiliate Program has now closed. All brands under Referback as well as all affiliate accounts and income were moved to Buffalo Partners in August 2014.
Referback and Wagershare merged into becoming Buffalo Partners, although I was told by quite a few key people that it was "almost 100% Wagershare" and that they were just creating a new brand.
I personally haven't worked with Wagershare although I'm aware they have a bad reputation. Like any affiliate program however I am willing to give them the benefit of the doubt and make up my own opinion based on my own auditing. I will be looking to work with Buffalo Partners and when appropriate, will write up a review of the Buffalo Partners Affiliate Program.
The original Referback Affiliate Program Review will remain online below for archival purposes.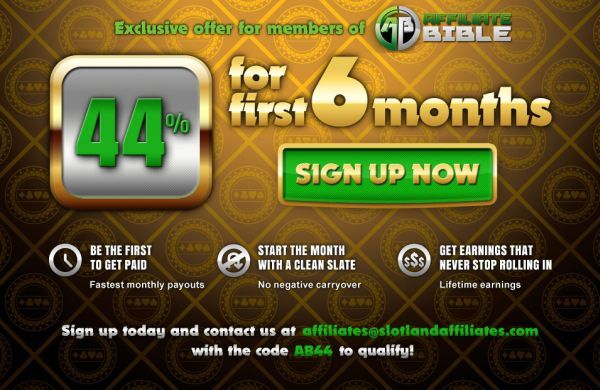 Referback are a poker, bingo & casino affiliate group, who lay claim to the "oldest online casino" in Gaming Club Casino. Their other popular brands are Jackpot City and Cool Hand Poker.

I've always really liked working with Referback, as they have hired some top notch affiliate managers. That's not to say they're all the best, but in the history of Referback there are a few great people, like Sonet Geyer and Cobus Ebersohn.

They've continued that tradition with Colin Anderson. Formerly of affiliate programs like Unibet and Canaffco, Colin has been around the business for a long time and is a fantastic affiliate manager to deal with.

I stopped promoting Referback brands in late 2010 as I just wasn't happy with their conversion abilities, however Colin Anderson has now stepped in and is changing things in a big way, putting his experience and education to good use.

I think over the next few months we're really going to see some huge changes at Referback, all for the better.

Referback have been utilizing many more retention methods, and use some out-of-the-box ones that no other casinos I know use, which is good.

Also the TV ads for the likes of Cool Hand Poker can really help that brand name, and having them on your site you should be able to see at least a good few curiosity clicks which will hopefully result in signups.

The Referback backend is solid and very easy to navigate, with a wide selection of marketing material in various languages.

I personally think Gaming Club is a brand you NEED to have on your casino site, as there are just so many ways you can market them, and they are one of my favourite Microgaming casinos to promote.

BRANDS


Referback have 5 casino brands in Jackpot City, Gaming Club, Riverbelle, Lucky Nugget and King Neptunes casino.

Jackpot city also offers a mobile casino for players and a bingo room for bingo players. The lone poker brand on Referback is Cool Hand Poker.

The two casino brands I focus heavily on are Gaming Club and Jackpot City Casino. Gaming Club offer $100 free for new depositors, plus 30 free spins which is a great selling point. They also focus heavily on being the 1st online casino.

All the casinos use the Microgaming software, which has the most games available of any casino software. Over 250 slots, 50+ video poker games, and almost 50 variations on Blackjack are just a few examples of the games offering at the Referback casinos.

Jackpot City Casino offer a $500 welcome bonus spread over 2 deposits, and offer a mobile casino as well.

Jackpot City Mobile Casino offers a $150 deposit bonus, and 20 different mobile casino games. I went through the process to get Jackpot Mobile Casino on my Blackberry, and was very impressed with how easy a process it was.

Cool Hand Poker uses Microgaming software, with a 50EUR instant match bonus, and a 200EUR deposit bonus. Cool Hand have ran numerous TV ads to get their brand name out there…although I do think their tagline of "No Pros! No hustlers! No sharks!" is counter-productive for the current player base, it's still something that can attract new players.

COMMISSION

| Net Rev | Rev Share |
| --- | --- |
| $0-$15k | 25% |
| $15k-$30k | 30% |
| $30k+ | 35% |

| Net Rev | Rev Share |
| --- | --- |
| $0-$5k | 20% |
| $5k-$10k | 25% |
| $10k+ | 30% |

| Net Rev | Rev Share |
| --- | --- |
| $0-$15k | 25% |
| $15k-$30k | 30% |
| $30k+ | 35% |

Notes: All new Referback Affiliates get 40% commission for the first 3 months.

To qualify for the casino revenue tiers you must bring in one new player in that month, otherwise you only get 20% comission.

After signing up with Referback, you can contact them regarding CPA or Hybrid Deals.

MARKETING

Referback have a solid backend, and update marketing material often. Their marketing material is usually created for various different countries. Here are a few examples of Referback ad banners:

The 3 brands I would focus most on at Referback is Jackpot City Casino, Cool Hand Poker and Gaming Club Casino.

With Cool Hand Poker, their whole marketing scheme is based on "we have really bad players". While that's not exactly a compliment for the existing playerbase, it's something you should be promoting to your poker players.

With Gaming Club Casino, I like to focus on the trust aspect. I mean come on, first online casino – sells itself.

Jackpot City Casino I would focus on the versatility – it's Microgaming, so you can promote so many of their games on there, and I also focus on the mobile casino.

GLOBAL

No Referback brands accept US players.

All 5 of Referbacks Online Casinos use Microgaming software. The Microgaming software is available via download and accessible via a users web browser, so both Windows and Mac users can play at all of Referbacks casinos.

All of the casino homepages are translated into at least English, Italian, French, German and Spanish. Multiple currencies are offered like the USD, Euro and AUD.

Jackpot City Mobile Casino is compatible with an absolute ton of devices. If you visit their site and click "Compatible Devices" you'll see exactly what I mean. I've personally tested it on a Blackberry and iPhone and it has worked great on both.

Cool Hand Poker is on the Microgaming Network, and offers both a Windows downloadable client, and the ability to play in your browser.

Their website is translated into over 10 languages, including English, German, Danish, French and Italian.

Jackpot City Bingo is 100% online based, therefore both Windows and Mac users can play on it. It utilizes Flash.

The Jackpot City Bingo homepage is currently in English only.

Players from China can open an account but receive limited bonuses. Players from Russian Federation can open an account but receieve no bonuses. Notable countries that cannot open an account at Referback Properties includes all African countries, Albania and Netherlands.

FAQ

Q: Do Referback offer Slotastic in their backend?

By request, yes. You need to request this from your affiliate manager.