Welcome to Thank Cyber It's Monday – a great time to be an affiliate, with so many companies offering Black Friday and Cyber Monday deals.
I know some webmasters who have websites dedicated to Black Friday and it's funny to see their stats. 1-2 visitors a month for 11 months of the year, then one short period where it jumps to 20,000+ daily. Funny to see.
Sadly it's not as entertaining from the marketing level. This is the one time of year where marketing techniques really go out the window, and is replaced with "slash prices like absolute crazy". Still as a consumer, I have no problem with that!
A lot of people actually think the deals niche is too competitive – but I still think there is a lot of room. If I was launching a deals website I would look at localized marketing, which is what the sites like Groupon have went with. The city I live in has 130,000 people in it. Google Keyword Tool estimates that about 2% of those visitors search for "mycity deals" but then there's more sub-traffic below that like "mycity hotel deals". So right there you have about 2000+ visitors per month in a non-competitive market.
Actually there's probably an article in that. I'll cover that a bit later in the week. Let's get rolling with our motivational Monday post…
Cyber Monday Deals for Webmasters:
Best Of The Web: BOTW is a solid link directory. Getting approved in there isn't the be all and end all of links or anything – but it's a decent enough link, and one I usually request for new websites as the price is cheap. It's now even cheaper – use the code CYBER50 at Checkout for 50% off. I'll actually be buying one of these myself today for a new site I'm launching this week.
Hostgator: The web host I've been using for about 5 years now, and in my opinion the best web host out there – their Cyber Monday deal is $1.95 domains, and 50% off all web hosting packages. Really sick deal – check out their packages.
GoDaddy: Now unlike the above two – I'm not going to give these guys a huge recommendation. Not at all. I DO have 99.9% of my domains registered at GoDaddy and DO continue to still register here – but I'm a sucker for punishment I guess. They often have the best deals if you use the right coupon code, although have a horrendous user interface and their pitiful attempt at upselling never fails to anger me. Rant over – get a domain at GoDaddy today and use the coupon code cjc199x1 and get the domain for $1.99. Just do NOT get their hosting. Biggest mistake you'll make.
The second most popular option after GoDaddy when it comes to domains is NameCheap who have a bunch of Cyber Monday deals of their own.
Real Hot Stuff
So I bought some electronic items online the other week from a small website. And a few hours later, I had a call from my credit card company as they had temporarily blocked the purchase, wondering if my credit card was stolen.
No big deal – this happens often. So I call them back and speak to a nice lady who brings up my account.
"Okay yes there was a purchase earlier today that was blocked on your account"
"Okay yep I can verify that"
"It was in the amount of $39.99…."
"Yep"
"And it was from a website called……..Real Hot Stuff .com"
Oh boy. This nice lady thinks I've been buying porn online.
Sadly, I just make it worse.
"Oh man, haha that website isn't what you think it is."
"[laughs] It doesn't sound very good!"
"I know, I know. But I was buying electronic items."
"Electronic items…."
"Oh no! No! Not vibrators or anything like that! Like um….real electronic items!"
"I'm just going to go ahead and approve this purchase."
"You understand I was NOT buying sex toys right?"
"…"
My account will forever be tainted now. It's funny when you just don't even think about what is in a name.
Of course, the people behind Susan Boyles new album knows what that is all about. They promoted it, and encouraged people to talk about it by using the hashtag:
#susanalbumparty
Oops.
WWE on YouTube:
World Wrestling Entertainment(WWE) are one company that is really embracing social networking, and websites like YouTube. They actually air live matches on there prior to PPVs these days.
Now obviously, a lot of companies have copyright issues with YouTube. As fast as a company takes a video down – it's back up, and just looks bad for the company.
I have a video up there on Youtube I uploaded years ago. It's a crazy promo The Rock cut at Backlash – this one:
It currently has about 250,000 views. Now what's interesting is I was contacted from YouTube about this recently. WWE were NOT going to take this video down due to copyright violations – INSTEAD they are going to put ads on it prior to watching, and then claim the ad revenue.
This is fantastic – and it's really good to actually see a company "get it". Taking down videos accomplishes nothing – people are just going to upload them again, and it just makes people view the company in a bad light. So they've figured out a way to actually PROFIT from the copyright violations.
Smart.
Schedules & Routine
I'm ALWAYS looking at ways to increase productivity. At least once a week I sit back and think about any areas of my life where I could be a bit more productive.
I've written the last couple of weeks about waking up early. However when I think of the mornings – sometimes they are a bit vague. I might get caught up reading forums or facebook or watching sportscentre and put off work for a bit – which ends up screwing up my day.
So I've came up with a tight morning schedule now which is written on my whiteboard and I refer to it every day: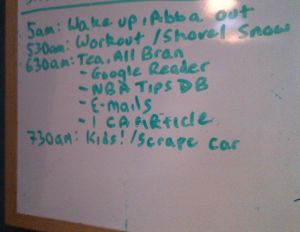 It's fairly simple.
5am: I wake up, and I get ready and take the dog out. Her name is Abba, named after the greatest band ever. Black Sabbath.
5:30am: I either workout, or shovel snow – which in Canada is a workout in itself.
6:30am: Time to sit down at the computer with a nice cup of tea and a bowl of all bran. I have one hour. During that period I will first relax and catch up on all my RSS Feeds. Then I update the NBA Database for my NBA Tips website. Then I go through all of my e-mails, deleting the junk and replying to what is needed. Finally, I pick one article off my main brand CasinoAnswers.com which is low in content(less than 500 words) and quickly add 100-200 words to that article, to increase the quality.
7:30am: My alarm goes off at this point, and I am off to wake up the kids, get their breakfast and lunch ready, scrape the ice off the car and then take the kids to school.
The 6:30am part is the important one – these are things I really need to do every day. By having them written out, part of my routine, and accomplished early on – it means I can put them out of my mind, and my mindset and thinking is a lot more progressive and forward.
That's your tip for this week. Don't just wake up early – get up and accomplish the things you need to accomplish right off the bat. Seize the moment!
Have a great day!