Whew – been awhile. How's everyone doing? I'll get into where I've been in a second, but I just want to cover betting tips sites for a moment and why I appreciate them so much.
I've got quite a few niche sports tips sites, and they are some of my biggest moneymakers. But it's not just the money I'm thankful for these sites – I'm thankful for many other reasons.
One in particular is my NHL Tips website which I launched last season. Now I lived in Scotland till I was 16, so I didn't grow up with the NHL. But I did grow up PLAYING the NHL games on the Sega Genesis/Mega Drive like NHL 93, 94 and so on. Probably the best 1 vs 1 video game action of the 16-bit generation.
When I moved to Canada – well, it was hard NOT to get caught up in the hockey buzz. I didn't really have a specific team other than knowing the best players from the NHL games, but I started off by cheering for all the Canadian teams. As time grew on I start to get an affinity for the Canadiens and that ended up being my team.
Now over the last few years I'd watch hockey off and on. The long NHL seasons never appealed to me – so many games that I felt were meaningless. I'd mostly watch the Canadiens play whenever there was nothing else on, kept track of them and try and watch playoff hockey and that was about it.
That all changed with the NHL Tips site. Now I HAVE to pay more attention to hockey. I need to know all the teams, I need to know how injuries will affect a team, and pay attention a lot more to how teams play against each other etc.
And I freaking love it! That's my job! I mean yeah I could outsource the tips content with ease – but why the hell would I want to do that? PART OF MY JOB IS WATCHING HOCKEY. Now I'm not just flicking back and forth between The Office and The Canadiens – I'm glued to the screen watching the Colorado Avalanche up by 2 goals with 30 seconds left because I've tipped them at -1.5 and it's the difference between a winning night and a losing night.
And honestly – it's made my life a lot more enjoyable. It doesn't hurt that during family Thanksgiving dinner I get to say "Well this has been fun but I have to go to work – the Sens are playing"!
Of course it's not just hockey, or tips sites – it can be anything. There really is nothing better than building websites around topics that you're either passionate about, or WANT to be passionate about.
And man, I can't be any more thankful for that if I tried.
So I'm Back:
Can't believe it's been a month since I last wrote on here. Time just freaking flies.
I'd written last update that I was heading to Mexico with my family. Man, that was a blast. Usually when I go to Mexico I enjoy it – but I'm always counting the days till I get home. The reason for that is we usually go wihout the kids – so I'm missing them like crazy This was the first time we took the kids though – and man, did it ever make it better. I could've stayed there forever.
For the most part we stayed on the resort. There was a really big water park there for the kids and the resort was awesome. We did go on ATVs through the jungle and did the cenote and underground cave stuff. Couple of pictures: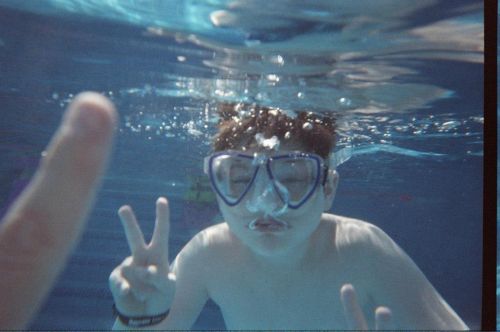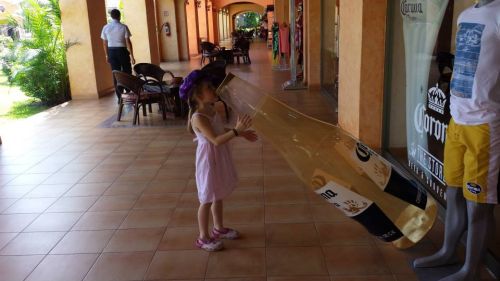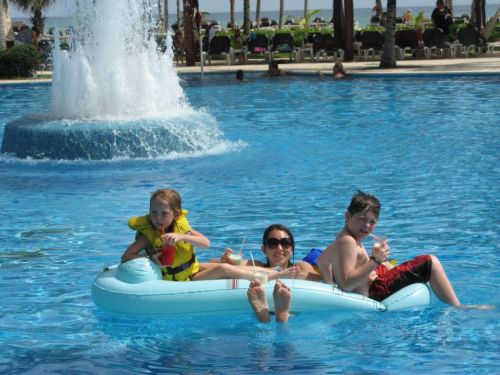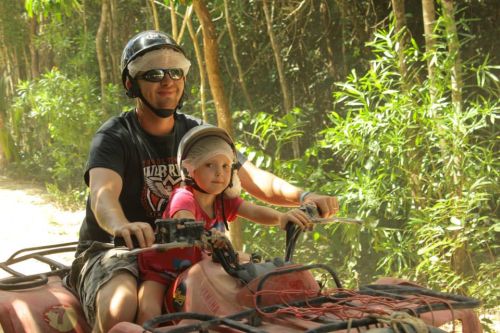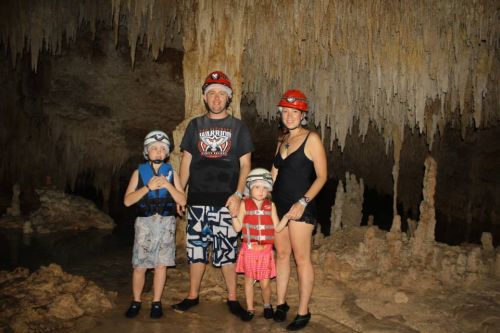 For anyone wondering, the resort we were at was the Barcelo Tropical. If it was just me and the wife I'd go elsewhere probably; but for kids it was very solid due to an awesome water park.
While I was away, I started thinking about my work environment and how much it sucked. For example:
When I was young and foolish, I decided a La-Z-Boy would be the ultimate office chair. Yep. In this day and age of ergonomics being such a big thing, I was sitting in a freaking La-Z-Boy all day long.
One of my monitors broke. Rather than replace it, I just hooked up my office TV as my 2nd monitor.
The TV was huge, and it really messed up how my monitors were aligned. My desk only allowed me to sit in one exact spot, so I was all twisted around like a pretzel. You've seen Ramseys Kitchen Nightmares? His reactions during that show would be nothing compared to how an ergonomics specialist would react if they saw me.
My keyboard broke and I hadn't gotten around to replacing it, instead using a generic keyboard that was causing wrist pain.
My desk was a monstrosity. It was humongous and had a huge hutch and was basically a combination of desk/storage unit.
So when I came back, priority #1 was sorting all that out. New and simplistic desk, new monitor, wall mount the TV, desk mount the monitors, new keyboard, new chair with random ergonomic buzz words etc. And then of course when I decided that my wife decided we just HAD to repaint as well – so my first week back I was dealing with all that.
So basically other than doing NHL Tips every second day and watching NHL, I've barely did ANY work at all in the past month.
But now I'm back, I've got lumbar support up the ass, and I'm ready to rock it…..just in time for the NBA Season.
Maybe I need a second office TV to watch multiple sports in the office…it IS for work and maximum productivity after all!
Monetization – It's Happening!!!
I'll talk about this more in detail in a few weeks, but MAN I am very excited to watch the internet world over the next few months.
All the big internet companies are finally starting or evolving their monetization methods. Facebook are getting more in your face than ever. YouTube have moved into user subscription channels that cost money to view and are starting music subscription. Twitter and their IPO, Amazon raising free shipping to $35, and Instagram starting to roll out ads.
And that's to name just a few. It's going to be an interesting 18 months. What I really like is the REBELS. The guys who on every article are saying YouTube will die with this whatever and a new YouTube will just pop up. Then as if to prove their point, they proudly state "MYSPACE" before crossing their arms and giving a smug look.
Either way, it's going to be interesting to study all of this.
Couple of Links:
BBM for Android: Yes, BBM is now out for both iOS and Android. And holy crap is it ever underwhelming. The only reason I'm going to keep it installed is so I can convince everyone on my old BBM list to switch to WhatsApp!
Of course I'm starting up a new Blackberry website so WTF do I know.
Good article over at Moz on Whitehat link building in the gambling industry.
Finally, I have a contender for the worst way to spend your money: paying a travel agency to send your stuffed toys on a vacation.
Amazing.
Popcorn:
Now let's end this week's article on a low note.
Popcorn.
I consider myself a very chill person. When things turn to shit I take a deep breath and try to deal with it rationally and calmly. When life gives you lemons yada yada yada – you know the deal.
Then a completely miniscule crisis happens to you and life is freaking over and all that calmness and rationale jumps out the window.
On Friday I decided to treat myself to some Popcorn at night. So I popped over to the store and bought a bag earlier in the day.
We ended up going to a Halloween party for the kids that night and by the time we got home we were exhausted. So I passed on the popcorn and went straight to bed.
Saturday I was feeling drained and went to bed early. So again no Popcorn. But I woke up Sunday with an amazing thought: the Walking Dead was on at night! I'll eat my Popcorn then!
It was seriously sad just how excited I was at this thought. It kept me going all day. I put in an even harder workout than normal, pushing myself more and more with the thought of gorging myself full of popcorn that night. I mean you gotta understand – I don't eat much junk food, so I was completely obsessed over this.
So 8:50pm rolls round and man am I ready. I have margarine all ready to melt and pour over my Popcorn and I have a container of white Cheddar Popcorn Seasoning opened and ready to make this already great experience legendary.
And I couldn't fucking find the popcorn!
I looked freaking everywhere man. Even in the most ridiculous places as you always do. Maybe it fell behind the TV! Maybe I took it and put it in the trunk of the car. Did I put it in my new monitor box prior to chucking the box outside?
The most illogical places become the most logical.
Finally I give up and head to the store to buy a new bag. On the way I am wondering what bad thing I did to have such bad karma. Did I run over a kitten or something? I laugh at this thought – karma wouldn't be so evil as to screw me over on popcorn.
Yeah, I must've ran over a LITTER of freaking kittens. Because I got to the store and there was no goddamned popcorn left. THE STORE WAS OUT OF POPCORN. Like what? How does this happen?
So yeah – I ended up watching The Walking Dead while munching on celery instead.
Of course as is always the case – I woke up this morning, went downstairs and threw the kettle on and noticed the popcorn right there on the kitchen counter, tucked neatly beside the microwave.
FML.