Firebrand Affiliates closed down.
I'm not exactly sure what happened – I was given a headsup from an affiliate manager in late 2015 to remove all links to their brands. A couple of months after that they shut down. I heard mixed reports – some to do with software, others to do with licensing – but at the end of the day Firebrand Affiliates are shut down as are their brands.
My original review of Firebrand Affiliates has been left below for historical purposes.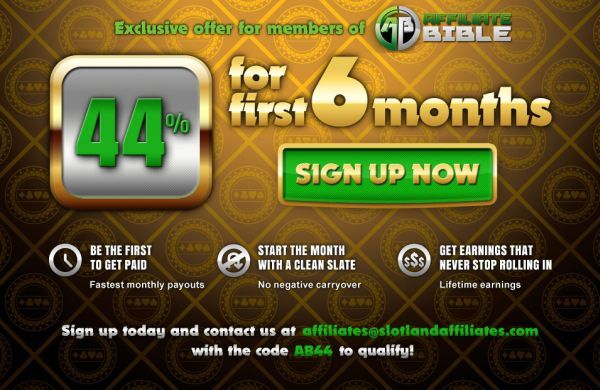 I started working with Firebrand Affiliates in September 2012. They're an okay program who try hard but I've had performance issues in regard to conversion and retention there. They do have a lot of appealing offers for players but it hasn't worked out too well for me so far.

Firebrand Affiliates offer two online casinos for affiliates to promote – the casinos are Atlantis Gold Casino and Treasure Island Jackpots. Both casinos use the BetOnSoft casino software which I really liked – it's nice to have a chance from promoting Microgaming and RTG Casinos. Very few online casinos actually use BetOnSoft software, so you're really able to promote a variety of "exclusive" games that most casino players will be unfamiliar with.

Both online casinos offered by Firebrand also accept players from practically every country – including the USA and France. Before we get into the details, let's do a quick Firebrand Affiliates Review from both an affiliate and player perspective…

Firebrand Affiliate Review: Affiliates Perspective

From an affiliate perspective, I've been very happy with my relationship with the Firebrand Affiliate Program so far. The affiliate managers have been excellent to deal with. I've worked with Steven and Samantha so far – and from what I have seen both of them really value the affiliate relationship.

I've requested quite a few items from them and they've been very fast at getting it done. They created a specific landing page for me at one of the casinos and I requested changes to it – the changes were done within an hour. This was something that really stuck out to me – usually even GETTING a landing page from an affiliate program can be a hassle, never mind getting some things changed on it.

I've also really had a great vibe from both Steven and Samantha so far – they really give off that "enthusiastic" vibe where you get the feeling they really love their jobs. And honestly for me that's always a big thing – I enjoy working with affiliate programs more when I feel the affiliate managers actually have a passion for the programs that they promote.

Firebrand Affiliates also offer no negative carryover, which is obviously great in the casino industry. They promise payments on the 1st-2nd of the month and I received my first payment from Firebrand promptly. The Firebrand Affiliate Program website could do with some work – it's very basic, and the commission plans aren't laid out very well. The backend however is solid – it provides all the basic information you need, and is updated in real-time which I always consider a big selling point.

Firebrand Affiliate Review: Players Perspective

If you go to the site you'll see that one of their major selling points is conversions. Now really – what affiliate program isn't going to promise that? However they did seem to state their conversions in an upfront and honest manner. They advertise "10%-15% conversion ratio" which was nice – it's good to actually see some figures, rather than vague buzz words.

It's a little too early for me to say how the conversions are – but so far they seem to be fairly solid. What I really noticed was how great they are when it comes to converting players. I've got an exclusive 10 free spins offer with Atlantis Gold Casino for example. You'll see how they go after the player to convert them.

Before the player gets to access the free spins, the casino is already offering some great bonuses. As soon as they are done with the 10 free spins, the casino continues to try and get the player to convert with various different offers. It's aggressive marketing – but it works.

On top of that – since I have had a player account, I've received an e-mail every 2-3 days offering me additional free spins. The majority of players are going to take advantage of this – and when they do? They're hit with more aggressive advertising. These guys are very serious about both their conversion and retention. While I don't have the long-term data yet to see whether or not it works – I would be very surprised if it doesn't, and I've been focusing on putting them in my top spots.

I have unfortunately deleted a bunch of the e-mails but here's a screenshot of a few of them so you get the idea:

And what I really like is they don't half-ass it on the e-mails either. Check this out:

Firebrand Affiliate Review: Quick Summary

They hit all the right spots for me – passionate affiliate managers, prompt payments, rare software, real time statistics, no negative carryover, and what looks like very solid and serious conversion and retention.

I would highly recommend giving the Firebrand Affiliate Program a try.

Firebrand Affiliate Review: Brands

As mentioned, Firebrand Affiliates offer two brands: Atlantis Gold Casino and Treasure Island Jackpots.

For the most part, both casinos are the same. Their homepages are only different in terms of cosmetics – the layout is very similar.

Both brands have a very strong CTA above the fold. Here's an example of Atlantis Gold:

Lot of things I really like about this homepage. Some of the main positives:

Solid bonus opening offer. Free cash AND free spins is a nice combo.
Using a bonus code. I've always found via split-testing that offering a bonus code just seems to convert better. I think it makes it more "real" to the user – and it immediately switches their mind from "Should I try this online casino?" to "I better remember this bonus code for WHEN I download this casino."
Choice CTA, with Download Now or Join Now. Always smart.
Game of the Day: My favourite feature. It's highlighting a game players should try out, AND is current and relevant and shows that the online casino is updating daily.
Sidebar: I mean look at what is on offer. 24/7 live support via telephone and e-mail; very reassuring. Slot tournaments – fantastic conversion tool as those are still rare to a lot of players. Then the generic "Win Cash" which is nothing groundbreaking but still adds to the conversions and puts positivity in the users mind. Then "Safe and Secure" with the little icon, for additional reassuring.

There's a lot more elements to the homepage but those are the main ones. I really do dig the sidebar – I like that they offer both support and security as main features to reassure the user.

Firebrand Affiliate Review: Commission

The banner states "Up to 60% commission", the FAQ states "up to 35% commission" and the commission page states "as much as 37% total commission". I'm not sure why it's all over the place like that and I've sent them an e-mail recommending they fix that.

In the meantime, I spoke with Steven Taylor at Firebrand Affiliates. He stated "The standard commission is actually 37%. We do however offer additional commission rates based on volume". I can confirm that I signed up and am currently on the standard commission plan, and I am getting 37%.

Firebrand mostly work with revenue share. CPA and Hybrid IS available but is based on negotiations depending on volume, and the type of traffic that is coming from the affiliates website.

Firebrand Affiliate Review: Marketing

Slots are the name of the game at Firebrands two casinos, Treasure Island Jackpots and Atlantis Gold Casino.

I mean – take a look at the homepage of Treasure Island Jackpots:

Out of the 11 attention-grabbing graphics for users, 7 of them are related to slots. It's the exact same at Altantis Gold Casino.

All of the retention I have seen thus far in regard to the e-mails sent out by Atlantis Gold Casino have been 100% focused on slots players. I've been getting e-mails practically daily with free spins. I would be promoting the Firebrands Affiliate casinos strongly towards slots players. This is without a doubt the best method of conversion when it comes to the Firebrands Affiliates casinos.

I spoke to Firebrand Affiliates and they said that the best conversion for them is usually always the free spins feature, or the free spins plus the 1000 EUR signup bonus. You can also get custom landing pages set up with a unique signup code which is always nice.

One thing I really like is how the casinos use social marketing. Atlantis Gold for example are always offering free spins on Facebook, and running special promos. They are currently running one where if the user deposits with the bonus code "MYSTERYFLIGHTTAG" then not only do they get a 70% bonus, but they get the chance to win a mystery flight for two. These sort of promotions are AWESOME. It's really good to see an online casino that understands social marketing and how to utilize it so that it actually comes off resourceful.

Firebrand Affiliate Review: Global

All countries are accepted by Firebrand Affiliates, and its casinos.

Both Firebrand Affiliate Casinos use the BetOnSoft Casino software.

Both casinos are download only. Atlantis Gold is Mac Compatible and actually has a big sidebar graphic declaring that – so if you're targeting Mac Users, go with Atlantis Gold.

Firebrand Affiliate Review: FAQ

When do Firebrand Affiliates pay out to affiliates?

Usually on the 1st-2nd of any month.

Any more questions? Ask away.