More than ever these days, I see people attempting to get into the poker content writing business, where you write articles and content for other webmasters. It can be a lucrative way to make income – if done right.
However most people are making mistakes, and are seriously hurting their chances of some serious income. As someone who writes content and has 3 in-house content writers, I decided to write this guide on how to be a successful poker content writer.
Just like anything you approach, you need to approach content writing with passion. If you're sitting there thinking "I want to make a quick buck – I'm gonna write some poker room reviews and sell them" then you'll never make it in this role, or at least not for serious money. You need to enjoy writing, care about it and have full focus on writing to really succeed at it.
Act Professionally: You will get most content writing gigs by posting on poker affiliate forums, so when posting on these forums be sure to act professionally, and post with correct grammar, spelling and punctuation. I don't care if you are a published author and went to Harvard – if you post on forums with language like "iv gotta admirt your rite lol" I, and most others will never even glance at a thread where you are selling articles. A first impression is everything. Also if posting tales from the poker table be sure to think about what you post – if you post about how you lost your whole $150 bankroll playing NL50, I'm most likely not going to be coming to you for bankroll management articles 😉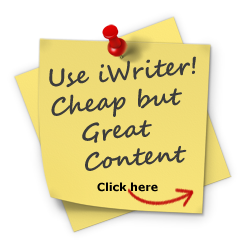 Be Prompt and Communicative: Word of mouth is the way to get a lot of writing gigs in this industry, and any negative feedback which is posted publicly will dramatically hurt your ability to get jobs. Minimize the chances of that by being prompt, courteous and communicative with anyone wanting to hire you. If I tell you I want 10 poker room reviews, you tell me the exact date I can expect them. If something comes up and you can't write the reviews by the deadline, then be sure to tell me about that immediately. This is a business, and you are an independent contractor and should treat all employers with respect. People understand – whether you forgot to pay your internet bill, your girlfriend broke up with you or you are just suffering severe writers block – it happens, and as long as you communicate these troubles then webmasters will be satisfied.
Know What You Are Writing About: The worst thing for me, is if I hire someone to write content and upon receipt of the article I know they have no clue what they just wrote about. Content is the most important thing a website can have, so I expect you to write the best article you can, on topics you are knowledgeable about. If I ask you to write me a Cake Poker Review and you have never played there – I would much rather you tell me that you have never played there, and that the review will be delayed 2 days while you deposit and play there for research purposes, than you going to websites like PokerListings, getting the information from there then trying to rewrite it. If I see that you are going that extra mile, I will be sure to hire you for future work.
[Sidenote: I also mention Cake Poker for a reason – that was my big test when I tested out content writers. For those who don't know, the Cake Poker lobby has a 7 Card Stud tab, yet they currently don't offer 7 Card Stud in their poker room. So I would ask people for a review, and see if they mentioned 7 Card Stud at all. Sure enough the majority of people would mention that Cake Poker ran 7 Card Stud. When hiring a writer I expect them to know what they are talking about and make sure their article is correct – why would I ever hire someone who made a glaring error like this?]
Study The Buyers Website: Many websites have a different writing style. Some websites go for more personalized articles, others stick with the facts. You don't want your article sticking out like a sore thumb – when a webmaster asks you to write articles, ask what website it is for and then study the style on that website, then try and match that style. Although check with them beforehand about that, in case they want you to go off in a different direction.
Don't Make Me Work: When I ask my content writers to write an article, I trust them to write an article that I will be happy with. The last thing I want is to have to touch up the article, change anything in it, or add to it. So understand when writing articles that you are writing for the internet. We want our articles to do well in search engines, so read up on search engine optimization. We also want our articles to convert readers, so read up on calls to action as well. Most importantly, we want our articles to be easy to read.

Ask Questions: Ask the webmaster questions about the article, so you can make it the best possible article you can for them. Ask if there is a particular style they would want, or if there is anything specific they want mentioned, or what keywords they would like used. Do everything you can to make the webmaster say "Wow – Perfect" upon receipt of the article, as this will ensure you get repeat jobs.
Show Examples of Your Work: Most writers will get hired by posting on forums or in affiliate marketplaces with a list of articles they already have, or offering to write articles on given topics. Whenever you create these threads, be sure to write them as if the person viewing them has never heard of you before. Show examples of previous work, list your rates and contact information, and be detailed on what you can write.
Offer a Bulk Rate: This is a simple one which will help you make money. First you should try and have set rates per article – let's say $25 for a 500 word article. However also offer bulk packages – using the above example, you could then offer 10 articles for $200. This will encourage webmasters to hire more work from you, and help you make more money.
Offer Suggestions: I asked one of my content writers to write an article for me for one of my websites. He wrote it, and sent it however said he had looked at my website and felt there was more topics he could write articles on, and offered suggestions. This was GREAT – by doing this I knew the writer had a passion for these articles and wanted to write them, which is when you get the best work possible. It also gave me ideas I had never even thought about, helped make my website better and also gave that writer more jobs, so it was win-win for everybody.
Go Above And Beyond: There are MANY content writers out there, and there is a lot of competition. Therefore you have to try and stand out from the pack, and go that extra mile for the webmaster to ensure you are his go-to guy. I've already offered a few suggestions, but the main thing for repeat work is to make sure you keep the webmaster happy. If I pay $25 for a 500 word article and I get a 700 word article – I am ecstatic. This is not something you need to do all the time – but if you are writing something and feel you can write longer – go for it.