If you run a quality website then you're going to have pages that quite simply don't convert for users.  If you're going to create a website on a topic, and you want to be the best resource on that topic, then it stands to reason that there'll be pages on that website not built for conversion.
For example, let's say you run a website dedicated to WSOP satellites.  The core of the website is informing the user of ways that they can qualify for the World Series of Poker.  Of course you'll have your money pages like:
Poker Rooms that offer WSOP Satellites
The Best WSOP Satellites Online
WSOP Satellites with No Entry Fee
Pages like that kill two birds with one stone; they provide the information for the user, and are also set up to directly convert the visitors.
However if you are looking to create the best website online about WSOP satellites, you can't just restrict the website to content like that.  It should cover a wide variety of information to suit the WSOP satellite player.  For example, a recommendation of hotels to stay in when participating in the WSOP; strategies to apply to WSOP satellites and stories of successful WSOP satellite players.
Those are just three examples of articles that make your website better, but unfortunately stand a very low chance of converting the reader.  Anyone who runs a poker strategy website no doubt knows this; providing an article on "How to play pocket jacks" then trying to convince the reader within that article to sign up at an online poker room that you recommend is practically mission impossible.
Yet if you're aiming to create the best website on a particular topic, you need to offer those types of articles.  You need to be the best resource on this topic, which includes all these pages that simply won't convert into real money players, or have very little chance of convincing a player to sign up for an online poker room.
Poker player bios; poker news articles; strategy articles; poker tournament updates; history of poker tournaments.  These are just a few examples of articles you will find on the majority of poker affiliate websites that ultimately result in low to no conversions if the only thing you are doing is promoting poker rooms on them.
Yet we all know Google doesn't like "thin" affiliate sites, so we need to offer these non-converting pages as we strive to offer the visitor the best experience.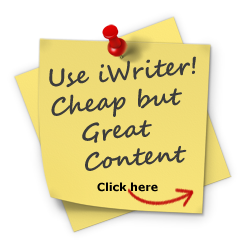 So – what do we do with these pages?
One tactic I see is "Hope for the Best".  Throw these articles up, add some links and minor call to actions, and hope for the best.  Hey a 1/10,000 conversion rate is better than a 0/10,000 conversion rate right?
Another tactic which I really don't recommend is harassing the user with advertisements, yet I am finding this more and more commonplace.  Your reader wants to read the history of the WSOP Main Event?  Separate every sentence with an ad banner.  Throw in text ads in with the text to confuse the reader.  Have popups, popunders, banner ads, skyscrapers, interstitial ads, wallpapers, tricks, videos, unicast ads – man, make that reader PAY for wasting your bandwidth by slapping them in the face and saying "CLICK ONE OF OUR ADS GODDAMNIT!"
I really don't like that tactic simply because it turns a reader off, and they will remember that.  Let's say a visitor finds your site while googling for the "history of the WSOP" and gets turned off by all the ads.
Then a week later this very same visitor googles for "Poker rooms that accept Visa deposits" and your website is #1 in the rankings.  That visitor could say "Hey I remember that site, it annoyed the hell out of me with all those ads, I'm not visiting there!".  Boom, conversion lost.
The last thing you want to do is piss off a potential customer.
So – what should you do?
To me, there are really only three options: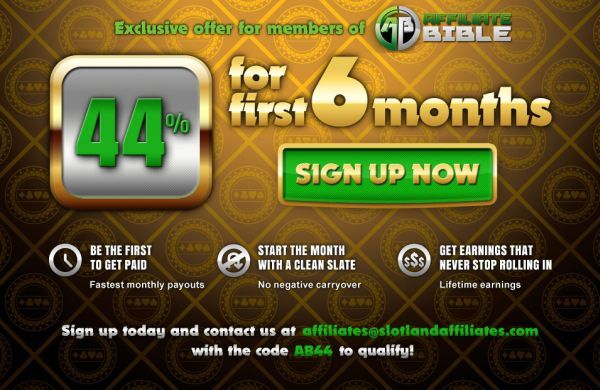 #1: Content Specific Marketing
The most obvious one.  Rather than broad marketing like "Best online poker rooms", you instead focus on marketing material specific to the content.  Someone reading up on poker hand rankings?  Promote to them "poker for dummies".
Hell I once made two sales on a Chris Moneymaker bio page by linking visitors to where they could buy the same sunglasses that Moneymaker wore during the WSOP!
#2: Selling Your Website
This is a tactic a lot of people don't use, but they really should.  While the visitors reading, encourage the visitor to visit your website more often.  Mention the brand name or the URL.  Encourage them to bookmark the site.
The goal of this is simple: to bypass search engines.  If someone reads your poker hand rankings page and believes your website is a valuable resource(thanks to you selling it on the visitor), they may bookmark it.
Then when they're looking for an online poker room to play at, or what poker books to buy, they'll either visit your site via their bookmarks, or even search for your brand name.  Because they trust your website.  You pleased them once, and they're looking to be pleased again.
#3: E-Mail Harvesting
Probably the best tactic out of all three, and the one I would recommend using.  E-mail marketing isn't the easiest thing in the world – and the various spam filters out there can make it quite tricky even if you're not sending spam.  Also finding out how to market to a specific mailing list can be tough, but with enough perseverance it can be extremely lucrative.

There are so many ways to market to people via e-mail and the best thing to do is split test.  Try out various methods, and see what works.  See what people sign up to – whether it's your advertisement for a "no deposit bonus" or a free e-book.  How you market to them really depends on a variety of factors.  However we'll save e-mail marketing for another topic.
What you want to do is get their e-mail address – but do it in a method that doesn't seem intrusive.  For someone to provide their e-mail address they need to trust your site, and you also need to provide them reasons as to why they should stop reading this article and take a second to fill in your form.
Here are a few examples of solid methods that work:
At Casino Answers an article on "Roulette Etiquette" doesn't exactly scream "Money", but a non-intrusive and can't miss form that offers special promotions gets a lot of conversions: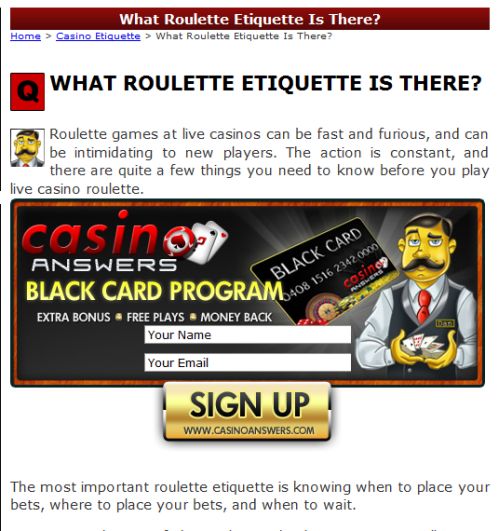 BestCasinoOnline.com has this article on "Gold Rally Progressive Jackpot Won" which isn't really the best converter, however they make up for that with the awesome and very eye-catching graphic that appears at the bottom of the page offering $25 free no deposit if the visitor simply inserts their e-mail:
TheSportsGeek.com offers a great section on their website with analysis and betting advice for a lot of games, like NBA picks for May 15th.  Now sports tips websites focusing on mainstream sports are notoriously hard to convert visitors(because most of them already have an account at a sportsbook and don't want to change), so focusing on the mailing list for these types of sites is a must.  That's why TheSportsGeek greets you with this popup: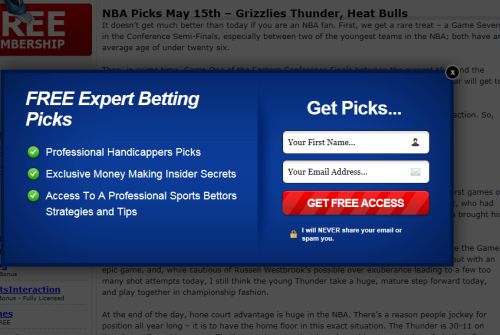 (FYI that sick popup is done via Popup Domination)
I said at the top of this article that there are pages that just won't convert for a user – in all honesty, nothing could be further from the truth.  You may see a page of content that won't convert users, and will make you no money.
I see an opportunity.