It's that period between Christmas and New Years where let's be honest – none of us really want to work.  And those that are working – man, take a freaking break!  You deserve it!
During this lull period, I wanted to write about Affiliate Bible, and how the website came to be, as well as a fun story about how I actually ended up with the AffiliateBible.com domain.
In 2006 when I was primarily a poker affiliate, I launched PokerAffiliateBible.com.  PAB was a huge success and it inspired me to launch CasinoAffiliateBible.com in 2008.  I also picked up BingoAffiliateBible.com and a couple of other ____AffiliateBible.com domains just in case.
Unfortunately, I found it really hard to write for both PAB & CAB.  A lot of content applied to both mediums, and it didn't make sense to write the same article twice.  Furthermore, PAB was an authority site while I didn't really put much effort into CAB, and so it didn't do as well in the search engines.  I ended up focusing a lot of the work on PAB and doing an almost-merge of the websites, listing the articles on PAB and linking to them on CAB.
When I was planning out my 2010, one thing I planned was a whole big revamp of Poker Affiliate Bible.  I could see that affiliates were looking at diversifying in 2010 so I decided to try and cover a lot more topics than just poker.
In May 2010, my programmer  Frank pointed out to me that the domain AffiliateBible.com was up for sale, and suggested if I was looking to cover a variety of topics I should look at picking that up.  I declined because PAB was an authority website, and I wanted to keep everything on that.
It was one of those thoughts however that I couldn't let go – the more I worked with the designer(Mark Birksted) on the new Affiliate Bible, the more I thought about that domain, and how well it would fit in.
AffiliateBible.com was available for $400, so I ended up submitting a lowball offer of $100 in June.
After a couple of weeks I didn't hear back, and I noticed the domain was actually getting close to expiring.  I didn't want to get in a bidding war so I bid $250.  After a few days of no response, I bid the asking price of $400.
No response.
By this point I was freaking.  The design of Affiliate Bible was complete, and I'd went from "Meh I don't care if I get AffiliateBible.com" to "If I don't get AffiliateBible.com life is over".  I bid $1500 and was fully prepared to pay it, and STILL didn't get a response.  A couple of days later I bid $5,000 to hopefully get their attention.  Would I have paid it?  I don't know – but I think if it came down to it then I would've, because I wanted this domain THAT bad.
The domain expired.
Now when a domain expires you don't get it right away – it goes through a renewal period for the current owner, then an expiration period, and finally a redemption period.  It's like 60-80 days from when the domain expires to when you can actually pick it up.
Yikes.
So I had to put the launch of Affiliate Bible on hold, while I tried to pick up this domain.  In my mind I couldn't work on the new Affiliate Bible until I actually owned AffiliateBible.com.
Unfortunately, the day that the domain would be available for purchase was when I would be in Mexico, taking a well-deserved vacation.
Crap.
I used GoDaddys Domain Name Capture service to hopefully get the domain, and also gave information to my programmer Frank on getting the domain, as well as instructions on what to do if we got it(upload content to it, submit to Yahoo Directory).
So there I was, sitting in a bar in Mexico, sipping on a margaratia and enjoying life when I got this e-mail: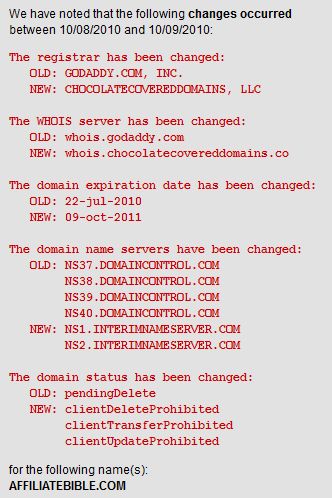 WTF?
Yes, apparently someone else scooped up AffiliateBible.com and put it on the nameservers "ChocolateCoveredDomains".  I still remember BBMing Frank and saying "WTF SOME CHOCOLATE COMPANY GOT MY DOMAIN".
To say I was upset would be an understatement.
Alas you have to roll with the punches, and I tried to come to terms with the fact that I had lost AffiliateBible.com, and wondered if I could maybe buy it off the person who purchased it.
Then a few days later:

You see, I had fallen victim to one of Franks classic pranks.  Bazinga!  Frank had actually purchased the domain, and decided to be a complete dick and mess with me.
Thanks Frank.
Of course, I can't be too mad.  3 months prior I was ready to pay $5,000 for the domain.
I got it for $60.
I guess sometimes it pays to be patient.
On a rather sad second note – as I mentioned, I used GoDaddys Domain Capture service to get this domain.  Even though this domain was already registered at Godaddy – I didn't get it!  I don't even think they tried, as the only e-mail I got was "Hey someone else bought this domain!"
So if you're looking to buy domains that have recently expired, be sure to use SnapNames.com.  I've tested them out a few times since picking up AffiliateBible.com and have been very happy.
I recently used it to register FrankIsAC**t.com.