Yikes – been a couple of weeks since I last wrote on here. Sorry about that.
Been very busy both in personal life and work life. Had a few things come up in life that limited my time online for the past month or so. Work wise I launched a couple of new websites that required a fair bit of work, and had well – a ton of other stuff going on.
All that is forgotten though as tomorrow we're heading off to the Caribbean.
I love vacations not just for the obvious – but for work too. It's sort of like New Years – even though I'm not one for resolutions, I do like it as a time to wrap things up and think about new things.
I find when it comes to work, it makes you more goal orientated. You've got a vacation coming up? Well time to get stuff wrapped up that you kept putting off so it's not sitting in your mind. Then when you're away it obviously gives you a chance to charge the batteries. I find I'm the most productive after a vacation, as I've cleared my mind and came back knowing exactly what needs done over the next little while.
And it goes without saying – turning off your phone and forgetting about the internet world for a week or so should be a priority. We're not doctors; we're webmasters. The world will still go round if we don't check our websites or e-mail for a few days.
I Love Morale Boosters:
One thing I've had on my to do list for forever was to run a golf betting tips website. I ran one briefly a few years ago but the writer I had for it list interest. Since then, I've really got into betting golf myself – the lure of a +4000 win and so on is great.
I finally got round to that a couple of weeks ago, when I launched GolfBettingTips.org. I was doing research and writeups on Golf anyway for my sports betting tips site – so what's another 4 write-ups a week? No big deal.
Golf betting can be fun as you get right into the stats and I'm a big stats geek when it comes to sports betting. However it can be tricky – you're going to be making tips of 20/1 or 40/1 etc and they're just not going to come in every week. I know that – but the public don't, and they expect winners fast and furious.
So that's why it was very, very nice when I first launched the golf tips site I got not one, but TWO winners in my first week. I picked Luiten to win the European Tour event at 12/1, and then Mi Jung Hur in the LPGA at 40/1.
Since then I've managed to pick a few more winners – and it's been just fantastic. Because any new visitors to my site will now see this in the sidebar: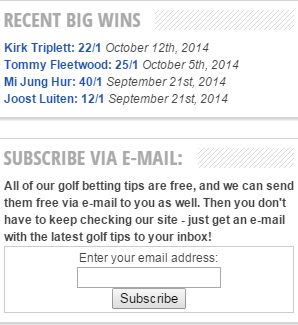 And that's a great selling point for them – I mean you can't have a better converter than that. They can click those links and see the betting slip showing the likes of $4,000 returns on a $100 bet etc. Much better than "I promise we'll win soon" or something like that. And right below that is the subscribe via e-mail option. "Recent Big Wins" is going to attract the eye, and then why wouldn't you sign up there?
So that was a great morale booster. If I'd went a month or so without any wins – which is going to happen – who knows how I'd feel about the site. But instead I'm super excited, and I look forward to my Wednesday afternoons where I spend a couple of hours going over all of the golf stats for that week.
Link Building vs Relationship Building:
I get a lot of questions from webmasters about building links in 2014. However one thing I would like to suggest is relationship building.
By this – I mean building relationships with other webmasters and affiliates.
I've been in this industry for years. Based on that, I've got a ton of friends who run websites. Many of them have premium websites with almost zero links out.
But they'll link out to me.
Why? Because we're friends, and that's what friends do. If they ask me for links, and the link is relevant to the website I'm writing about then I'll do the same.
In this very competitive industry, it's good to have some friends. That's also one good reason to attend conferences such as the Barcelona Affiliate Conference – you can meet people offline, build those relationships more etc.
And when you approach them months later and ask for a single link, there is a much better chance of them giving it to you.
Link Building: Think Bigger
On the topic of link building and this should be obvious – but when you analyze your competitors backlinks, you should always look to think bigger.
I know so many affiliates who when it comes to link building will do the following:
Get list of competitors backlinks.
Try and get the same backlinks.
The end.
You need to think bigger. For example – I had a website that was #9 for its primary keyword. I checked the backlinks for websites higher than me. I noticed one of the top sites had about 40 backlinks from grade school websites in the United States.
What most people would do is simple; approach those same 40 schools and also try and get a link on there.
However I went bigger. I got a list of EVERY Grade School in the United States. We then went city to city, state by state, checking if each grade school had a website. If so, then we approached them about getting a link on it.
Now there's about a billion freaking grade schools – so we're not going to hit every one overnight. But we're slowly and surely doing it, progressively building these links and we've already got over 100 backlinks from these schools, many of which have very authoritative domains.
We're also doing relationship building. These schools have a reason to link to the site, but we're going a step further: opening up a correspondence with the schools, asking if we can assist them in any way or anything we should add to that website that would help them out.
Even if they don't want anything – building that relationship will help in the future. If I launch another website that I feel could be linked on those sites for example – I can just reply to the e-mail with all of our correspondence, and having built a relationship already it will be easier.
Focus on building those relationships instead.
Alright – time to actually start that thing called packing. Have a great weekend everyone.