Note: All Affiliate Program reviews are revised and updated on a monthly basis for total accuracy. This Videoslots Affiliate review was last updated on .
The Videoslots.com Affiliate Program is the affiliate program for Videoslots.com. They do not currently offer any other brands.
Videoslots.com is of course an online casino, with a strong focus towards slot machines and in particular, video slots. They are all completely online – there is no download option – and offer an extremely slick web-based interface with very vibrant and fun graphics.

I've been working with Videoslots.com since December 2012. As you would expect – they do great with slots traffic. While they offer other games like Blackjack, Roulette and Video Poker – I found that harder to convert. I would recommend focusing more on the slots traffic – a domain like Videoslots.com really kills when it comes to converting people.
There's also been one major highlight so far working with Video Slots that I want to mention. About a week after I started working with the Videoslots.com affiliate program, my affiliate manager Lucas e-mailed me to let me know about a specific promotion they were doing, which was currently working very well with the Swedish & Finnish markets. I asked him if he could get a few words translated for me and he had it translated within an hour.
I put a few CTAs like this live that day:

And the very next day I picked up a new depositor. From Finland. It was really nice to have an affiliate manager tell me a specific promotion which was working and for specific nationalities, and then go the extra mile and get it translated for me and help me in that regard. Service like that is sadly quite rare within the industry.
Lucas unfortunately left Videoslots in March 2015. I've found since then their affiliate department is a bit on the quiet end – if I need something I can reach out, but I never actually hear from them.
Video Slots uses various gaming softwares and offer the largest selection of slot machines out of all the online casinos available. Let's get into the review, and my thoughts on the Videoslots Affiliate Program…, although if you want to check them out for yourself go do that!

Videoslots.com Affiliate Review: Affiliates Perspective
I've been very happy with Video Slots. As I mentioned above – most of my success is when promoting the site to slots traffic. They've got a very fun, vibrant feel to their website which is great for conversions. I also really like how slick and professional the user interface is, which I'll discuss in the players perspective section of this review.
They have a lot of great marketing material, and I'm a big fan of the interface used. Here's a screenshot of it: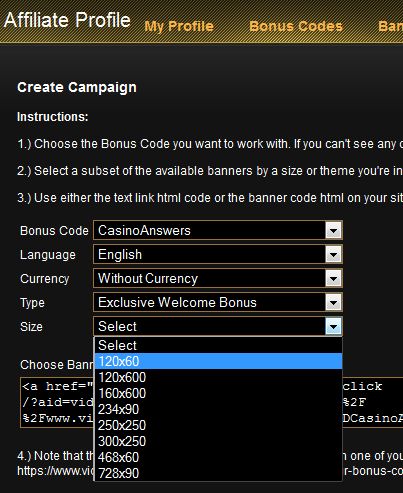 It's set up great for filtering to get exactly what type of banner you want. If you want to promote a specific currency or a specific language it's easy to use, and it's extremely easy to set up multiple campaigns and bonus codes for split testing.
Despite the minor issue in regard to logging into the affiliate backend, I'm so far very happy with Videoslots.com from an affiliate perspective.
Videoslots.com Affiliate Review: Players Perspective
As I mentioned above, Video Slots is all online based – they don't have a downloadable casino. While I do like the option of both, the amount of work that has went into their web based interface is incredible, and I have to give them major props.
Here's a screenshot of the main lobby area: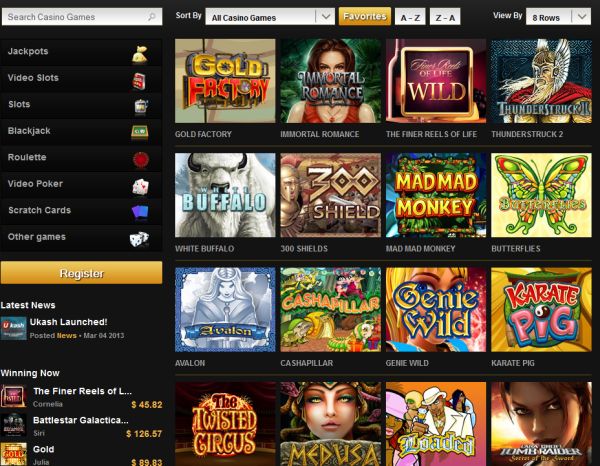 It's designed extremely well, and the user interface is fantastic. They really have thought of everything when it comes to the interface. You can scroll down and click on any of the games, you can search for them, you can use the category navigation in the sidebar, you can filter them – for example "5 wheel slots" or "Jackpot games", you can have it display your favourites, sort it by alphabetical order etc.
It really is like they said "How can we make it as easy as possible for the user?", and then did everything possible to accomplish that goal.
Videoslots offer a welcome bonus of 100% to $100 on your first deposit, plus $10 free cash which is a nice little addition and a great selling point. They offer casino races for the user with everything spelled out very clearly so casino players understand the rules as well.
Probably my favourite retention option though is the cashback program. Players get 25% cashback on a weekly basis. It's a really neat idea as it's a great retention tool – players are paid on Fridays a percentage of the profits that Video Slots make. And I've noticed that the majority of my player deposits are on Fridays – meaning players are logging in, getting their cashback and then continuing to stay and deposit.

The cashback program basically rewards players for playing – win OR lose. Of course I find promoting that you get 25% back when you lose works well – people think it's a way to "game" the casino and gain an edge. Lucas also wanted to share some details as to how the cashback program works:
The cashback is not calculated on your losses, but on the generated casino profit for every single day.
So, if a player deposits €200 during the whole week and managed to wager €15000.
The Casino RTP for slots is about 96%. ie; the casino's profit is 4%.
So 4% profit from wagered €15000 is €600.
Therefore 25% Cashback of that €600 is €150.
There is no wagering requirements on cashback money.
Therefore you have got €150 Cashback, regardless if you won or lost during your week of play.
It is quite simple really – We are giving out 25% Cashback to all players on All their spins!
So The More You Bet – The More You Get!
For promoting to players, I would say that Video Slots is without a doubt the best web-based online casino there is. Even better than Slotland or WinADay Casino(who are two of my top-earning brands).
Videoslots.com Affiliate Review: Quick Summary
Overall, I've been very happy with the Videoslots.com affiliate program so far. While they do offer games outside of slots, slots really are their bread and butter and that's what I would be focusing on. I wouldn't really bother sending them any roulette traffic etc unless you get a really nice custom landing page. Instead just focus on slots, and to a lesser extent video poker.
Videoslots.com really stand out due to their extremely slick web-based interface. and I would recommend pushing them to your slots traffic.
When you sign up as an affiliate, it automatically signs you up as a player account too. So check it out and you'll see what I mean – the web-based interface really is one of the most beautiful user interfaces I've seen an online casino utilize.
Videoslots.com Affiliate Review: Brands
The Videoslots.com affiliate program has the one brand, which is Videoslots.com.
Videoslots.com is an entirely web-based casino. Their default homepage is very solid, and I've seen a very high clicks->registrations conversions ratio. Here's their homepage – click for full size: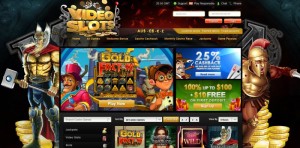 It's laid out very well, and shows off their fantastic user interface. It reminds me a lot of your typical "flash games" website like Newgrounds.com – it's an extremely similar interface which works out well because most people are already familiar with that type of interface, so are used to how it works.
Along with the interface there are lots of solid selling points like the new player bonus offer and the cashback promotion which are very clear and easy to see. I really like the cashback promotion because it gets the users curiousity factor going too, and they'll love the idea of getting what is essentially a form of rakeback.
Videoslots.com Affiliate Review: Commission
Videoslots commission starts at 25%, and goes all the way up to 45% dependent on net revenue.
30% kicks in at 15,000 euros per month, 35% at the 30k mark, 40% at the 50k mark and then 45% when you hit 100,000 EUR. Of course it's all negotiable, as with most affiliate programs, and I have found Video Slots very fair as long as you can bring the traffic in.
There are deductions off your revenue such as License Fees and Bank Fees. This is all laid out in the affiliate backend and is easy to understand.
Videoslots.com Affiliate Review: Marketing
Obviously, you should be marketing Videoslots towards the slot player base. With it being all online based you can promote it to players with practically any operating system, and use the buzz words like "easy", "fun" and of course "flash games" to get people interested.
Videoslots.com Affiliate Program offer a good amount of marketing material. It's easy to filter through the backend and if they don't have the marketing material available for you, you can request it. The banners are customizable based on language, currency, type and size.
There's a nice variety of marketing material available. You can choose from a variety of promotions for example their 100% bonuses, their 25% cashback bonuses, generic game banners like for slots or roulette, and then banners for specific games. Practically every banner is animated, and in gif format.
There's also the new player tool – where they list the payout ratio for every individual slot which is pretty slick. I don't think any other casinos do that at this time. So they show the actual payout ratio on all of their games – another way for the player to think they are "gaming" the system. It's got a pretty slick filter list where you can check the most played game, least played game etc.

Videoslots.com Affiliate Review: Global
Videoslots does not accept any players from the USA, France, Italy, Denmark, Turkey, Israel, Belgium or South Africa.
As mentioned at the top – promoting Videoslots to Finnish & Swedish traffic is best, and it is translated for those two markets, as well as in English.
.
Videoslots also has a mobile casino which works on Android and iOS both for play money and real money.
Videoslots.com Affiliate Review: FAQ
Q: When are affiliates paid?
Videoslots.com pay affiliates on the 7th of every month, for the previous month.
Q: How do you withdraw your affiliate money from Videoslots?
Bank wire.
Good to go? Sign up with Videoslots.com Affiliates.