Welcome to TGIM, the special Halloween edition!
Although unfortunately, there really isn't anything too Halloweeny about this edition. I tried, I really did. I wanted to carve some gambling affiliated pumpkins. My first attempt was a Howard Lederer Pumpkin, but as soon as it got close to resembling his likeness I stopped the carving and ended up beating it into a pulp.
My next attempt was a Europartners pumpkin. However every time I tried to start carving, some Israeli kept calling me to tell me I had to put it on top of all my other pumpkins!
My final attempt was a pumpkin for the affiliate group Affiliates United / CPays. Here it is below: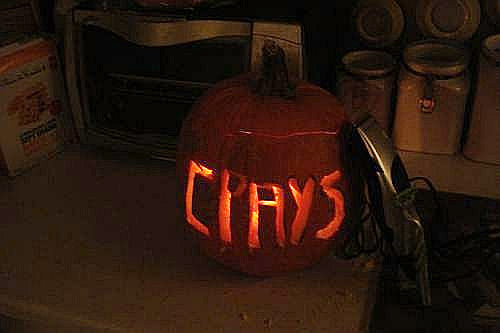 As you can see, it comes complete with an electric razor and Gilette Mach 3 to make shaving easier than ever!
Silliness out of the way, I hope everyone has a good Halloween planned. My son is going as Pikachu this year, and my daughter as Little Red Riding Hood: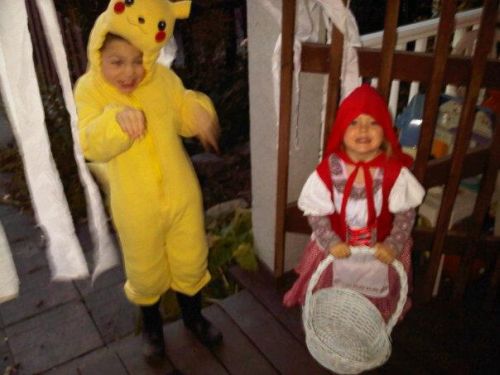 I'll be going as "the Scrooge of Halloween who never dresses up" as per usual.
I am PUMPED for this week and I hope you guys are too. My sports betting affiliate accounts have been CRAP since August – practically every one has been in the negative. But the last week or so I've seen that changing, and as of the NFL games yesterday quite a few of them are in the positive! Looking for this upswing to continue through November.
Got quite a lot to cover in this weeks TGIM. Let's get right to it:
25 Great Designs
My good buddy John over at Gaffg.com wrote the article 25 Best Gambling Affiliate Portal Designs. Now obviously this isn't an official "best" list however wording it that way is great for SEO, Viral Marketing and linkbait.
It's something you really should check out. Go through every design, and study them. There's so much you can learn from the sites. Look at what their key goals are, and determine whether or not they accomplish it. Understand why they do certain things, and always think about how you could do it better.
One of my sites CasinoAnswers.com made the list. I've actually been planning on writing an article about the new design(which I just launched 3 weeks ago) however the design actually isn't complete yet – there's still a whole bunch to do. I'd estimate 75% complete.
When the design is done I'll dedicate a TGIM to it, where I talk in-depth about why I decided to do everything, and what I hope each section accomplishes.
Interview:
I did an interview with my good friend Kevin over at DropOutGotRich.com. Feel free to check it out.
And now onto the focus of this weeks TGIM…
Google Ads:
Google Adsense and Google Adwords. We all make money via the internet, and both Adsense and Adwords are two huge economic components of the world wide web.
Yet so many people have never tried to make money from one or even both of them. Hell I saw one affiliate a couple of weeks ago who referred to Adsense as "Google Ad-Thingy".
Seriously?
If you've never spent time running a website dedicated to earning money from Adsense, or focused on running some Adwords campaigns then man – you are making a BIG mistake. In my opinion, probably one of the biggest mistakes you COULD make.
Let's compare it to freelance gold mining. So it's you and 100 other people all mining in the same area, all fighting and digging for gold. A few feet away, there's ANOTHER area where people are digging for gold. This area has 10,000 people mining, compared to the 100 at your area. Yet this is an extremely popular gold mine, with more and more people coming to dig. Some come away with no gold, while others are coming away with 50 gold bullions with very little effort.
You wouldn't go and try the other area? Not at all?
Of course you would, and it's the same thing when it comes to making money online. Internet marketing in your niche can be great – but there's this whole other area of internet marketing – one of the biggest and most popular forms of online marketing – and you're ignoring it?
Even if you try it and don't make any money from it – the education and experience alone is worth it. Let's take Google Adsense for a second – we're always looking for ways to improve our Calls to Action right? Well Google Adsense Call to Actions are awful – they're CLEARLY labeled and promoted as advertising. Yet there's a million ways for you to structure your content around it, to fully optimize your click-through rate. You're stuck with a very atypical call to action – but you'll learn a hell of a lot about placement, and how to construct your website and articles to fully optimize for these CTAs.
As for AdWords – for one, you'll really get a better understanding of your finances when it comes to investing, because that's really what Adwords is about. It's about getting the best ROI possible for everything that you run on there. Even better is you will learn a ton about copy writing.
With Adwords, you don't have 900 words to sell someone on a product! You've got about 70 characters to convince someone that they need to click-through. However it's not just a case of trying to sell the ad to anyone – you're trying to sell the ad to people that will actually purchase! It's a fine art, and is extremely hard to do.
Seriously, if you don't currently do anything with Adsense or Adwords then change that immediately – make this week the week that you focus on them. Drop everything, and work on a blog where income is built around Adsense. Then pick some products and start building Adwords Campaigns around them.
If you're new to Adwords then there's aton of Adwords Books available – all the books have their positives and negatives, but they're without a doubt a great beginner tool and will really help getting you started.
As for Adsense? Well first, excuse the speculative and SEO-orientated headline for a second:
Best Adsense Theme for WordPress:
You know what? It might not be the Best WordPress Adsense Theme but it's a damn good one; I'm talking about the Heatmap Ads Theme.
Design-wise, the theme is relatively average – but where its strengths lie is all the possible ad placements that you can implement. You don't need to mess around for hours with CSS and your theme – everything is set up for you with ease so that you can place ads anywhere you want.
There's also a ton of variations too which I really liked. There's "lite" versions of the them where the ads are minimal – while there are heavy versions of the theme where there is a crapload of ads – yet they're still presented in a manner that won't immediately turn the visitor away.
I only discovered the theme about a month ago but I've been trying it on a couple of my sites like TopBlackberryApps.net and I've been very happy with the results thus far. It takes just minutes to set up and comes with a ton of presets that make everything so much easier.
Honestly even if they didn't have an affiliate program I was planning on promoting it. But they do so yay for me! Check out the theme demo today.
Video of the Week:
Or maybe it should be entitled Video of the goddamned CENTURY. If you haven't watched this yet then watch it immediately – and if you have watch it, then watch and enjoy again:
If you can't get motivated after that you may be dead inside.
Rock this week people. TGIM!