Whew. Everyone have a good weekend? Here was mine in a nutshell:
Saturday: Kids Karate Lessons, Santa Claus Parade, Walmart, Costco, McDonalds, ToysRUs, Daughters Dance.
Sunday: Both kids had friends over for a "playdate". These kids managed to go on a wrecking quest the likes of which I haven't seen since my last monster truck rally.
The hours of sports I watched this weekend was pitiful. You know how many hours of sports I watch over a given weekend? If you count me watching it all on dual monitors, picture in picture, the laptop, the netbook and the tablet then easily over 100 hours. How much did I watch this weekend? 4. 4 freaking hours. A soccer game sunday morning and UFC saturday afternoon.
All I can say is….
Thank God It's Monday.
It's going to be a GOOD week.
When Life Gives you Lemons, Make Lemonade
It's a cliche, but it's true. Shit happens, and you just have to make the best of it.
Take the NBA Lockout for example. This hurts me big time. The NBA season is my biggest sports earner. I make money from selling tips. I make money from betting. And I make money from affiliate accounts.
Yet due to the NBA lockout, I'm making absolutely nothing from the NBA! And it really, really sucks.
Now I could sit around and cry about it – but where's that going to get me? You just have to make the best out of a bad situation. So while the NBA all fight with each other, I've launched a Euroleague Betting Site (Note: Needs a ton of cosmetic tweaks – my designers probably having a heart attack after seeing that quickie design I did).
Now what's really good about that is a lot of people don't bet Euroleague. However they need their "fixing" when it comes to sports betting with the NBA on strike, so it makes it a lot easier to convert. You give tips, and you tell them where to bet. Most sign up without doing any additional research whatsoever.
Twitter
In case you missed it, I did a fantastic interview with my friend and fellow affiliate Graham Rowlands on the topic of Twitter. Seriously a fantastic interview, and I can't thank him enough for it.
Graham also wrote an additional article on Twitter that I'd recommend reading. You can read it at https://www.ipokeraffiliate.com/.
Vote in the Gaffg Awards:
Gaffg(another great site for affiliates) is now running its Gaffg Awards. You can click here to vote. I've already voted, with the Blue Waffle foundation getting my nod as Charity Recognition.
Duplicating Content
No – this isn't me telling beginners not to duplicate content – it's me suggesting you duplicate your own content.
What do I mean by that? I mean taking articles that you've written for your website – and then writing them again!
There's two real reasons for that. #1 is simply adding more quality content to your website. Let's take Blackjack for example. You run a Blackjack mini-site, and have 50-60 articles all focused on Blackjack.
Eventually, you start struggling with new content ideas. Sure there's a million content articles you can write about Blackjack – but they're generally weak articles, more just content for the sake of content.
So rewrite your main articles, like "How to Play Blackjack". These are usually content-heavy articles, and ultimately quality. They're also good articles to get longtail keyword hits from, so the more articles you have covering the one topic, the more traffic you are likely to get.
Now I don't mean just having five exact same articles, all titled "How to Play Blackjack" on your site, with the content ran through an article spinner. That's silly. But what you can do is duplicate that content, while putting a twist on it to give it a fresh appeal. You can then format it in a different manner. For example: "Blackjack for Dummies Guide", "Blackjack Step By Step Guide", "How To Play Blackjack in 5 Easy Steps", or "How To Play Blackjack: A Refresher Course".
The #2 reason is that it allows you to split test similar content. You can try different CTAs within the articles. You can put the articles in a different format. Some articles can be pure text, other articles can be a mixture of text and images. Maybe throw a video review on there. Mix up all of your CTAs, and see what works.
Focus also on how the visitors react to each piece of content. What content is keeping the visitor on your site? What style of content turns them off? That sort of thing. Then learn from it for when you build new sites in the future.
I mean seriously – let's say you discover a hot new keyword and build a website around it. It shoots to #1 and makes you $10k a day. What would you do? Well you'd duplicate that site immediately, creating another quality website focused on that keyword.
It's the same with your content. Look for the "money" content that you have, and then present it in a different fashion. Plus Google can go crazy at times – if it follows through with its we want to present the most updated articles possible plan it's very likely that it will go overboard at first, and therefore more recent articles may rank higher.
(On a sidenote: I seriously hope they do sort it out to some degree. I'm tired of googling for a "Windows 7" error or problem and getting forum threads from 2002 in the top 10).
Or if you're the type of affiliate that wakes up in a cold sweat with nightmares due to this: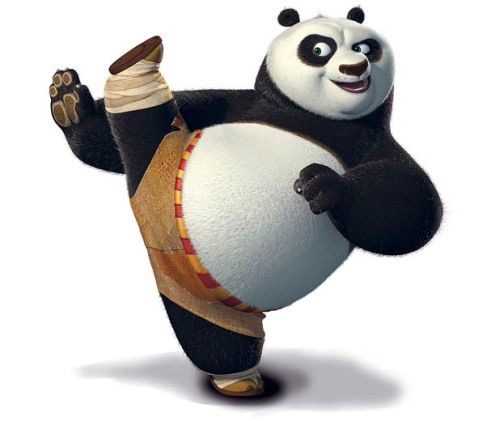 Then still write all the articles, however put them all within the exact same page. Then add anchor links at the top of the article to allow visitors to browse with ease. That way you've now created one ridiculously sick content page to appease even the fiercest panda bear!
Next Weeks TGIM:
Next weeks TGIM will be written 30,000 feet above the ground! I'll be flying back from Edmonton next Sunday night late, so will be writing TGIM then.
Every September, me and my coder Frank(who lives in Edmonton) pick a difficult project to work on, then focus on it for the next two months. I then fly out to Edmonton, we launch the site then go drink ourselves silly for 4 days straight.
Last year was the launch of the AffiliateBible.com redesign – boy did we deserve drinks after that one! I had used a different designer for Affiliate Bible, and I know Frank had countless headaches and sleepless nights trying to get this whole poker table background/bible concept to work.
But he persevered, and we actually launched the site while I was sitting in Toronto airport waiting to fly to Edmonton.
This time we're a lot better prepared, and we've actually did a soft launch of the website in the last week: DIY Landlord Forms. At this point it relies heavily on PPC, but hopefully with time we'll be able to rely a lot heavier on organic rankings to help increase our ROI.
We'll also be launching an affiliate program in the near future, so stay tuned for that. However that bad boy is probably a good 3 months down the road, because we want to focus on fully optimizing and perfecting the conversion rate first.
Well that's it for me. I've got 3 days of hard work ahead, before I fly to Edmonton. Remember how this article started? With a blow-by-blow report about my weekends? Well while I don't know how my days in Edmonton are going to go, I can tell you that the Thursday will start with a trip to the shooting range, and end with the Bay City Rollers concert. I can't think of a better day than that.
Although Mondays are pretty sweet too. Get to work! TGIM!
PS: Fuck the New York Giants.