Advertising Rates
I've got a really sweet advertising package for anyone that wants to advertise to literally thousands of affiliates.
On every article on this website(except for blog, affiliate program reviews and resources/FAQ categories) you will see the following eye-catching post-it note: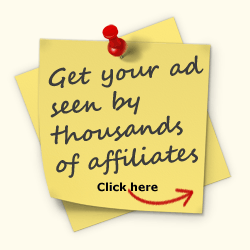 I will be selling just 2 advertising spots on that sticky note, and they will be in rotation(meaning theres a 50% chance of each advertisement showing on every pageview). These advertisements will be seen by literally thousands of affiliates. If you are an affiliate program you can advertise there – if you run tools for affiliates you can advertise there – and if you're an affiliate you can even just put your sub-affiliate link there.
On top of that – you will get 1 dedicated advertisement sent to my mailing list of over 8,000 affiliates.
Your advertisement will remain in place from the day you purchase it until December 31st @ 11:59pm EST.
All this for just $500 USD..
Why so cheap? Simple – I haven't sold any advertising on Affiliate Bible ever. I plan on having various different advertising rates in 2011, however I want to do tests first to see what is most effective and what isn't. For example in the future I may sell advertisements on the poker affiliate pages for $2,000 a month however on the bingo affiliate pages for $800 per month.
I want to take the rest of the year to analyze the click-thru rates, and formulate an advertising plan. So you get to take advantage of that for just $500.
There are only two spots available, so if you are interested use the contact form below and do it today, as I expect these will go fast. You can either design the advertisement on the post-it note or I can – whatever you want, we'll get it set up!
We can even geo-target it to up to 10 separate countries if you want. This will be $50 extra.
Also if you have a sub-affiliate program, you can allow me to use your sub-affiliate link and pay $450 rather than $500.
Any questions or if you are interested just fill in the contact form below.