One of the most popular websites that new sportsbook affiliates launch are sports tips websites.  These sort of websites are usually dedicated to a specific sport, and are full of sports betting tips.
I myself run quite a few sports betting sites, and have investments in others.  Some of the sites include:
When you're running a sports betting tips website, there's really two key factors that you have to remember:
Don't focus on website conversions
The Mailing List is King
Let's take these one by one:
Don't Focus On Website Conversions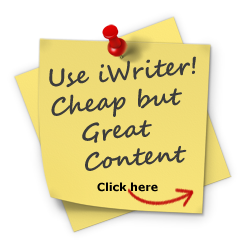 The strategy is very simple – on your website, you'll have various banners and bonuses linking to online sportsbooks.  In every article you mention where the best odds are, and what sportsbooks people should place these bets at.


So you might tell your visitors that they should bet the Raptors/Grizzlies game at Superbook, because the spread there is Raptors +9.5 while all the other sportsbooks have it at +9.
This doesn't work.
Not alot, anyway.  The visitors you are getting just aren't the type of visitors that are going to click through to a random sportsbook, sign up and deposit and then start placing bets based on one random article they found.
If you're looking to make money from website conversions, you're best to target alternate keywords like "Bet on the Grand National" or "Where to bet NBA".  I'll talk more in-length about that in another article, however those are the type of keywords that attract new sports betters, or people whose current sportsbooks aren't offering them everything that they want.
The people that are reading your sports betting tips are a completely different bunch entirely.  They've got to your website via phrases like "nba betting tips", "liverpool vs chelsea betting tips", "celtic over/under betting pick" or similar.
These visitors, 95%+ of the time, are visitors that already have accounts at sportsbooks.  They're not looking to switch sportsbooks – they're just looking for advice on what to bet on that day.  And I'll let you in on a little secret here:
Convincing a sports better/punter to switch sportsbooks is more painful than pulling teeth.
Sports betters are a different breed than the usual gambler – many of them simply don't care about spreads.  They don't think they have to research sports too much – they just watch and bet.  They don't care about the lines, or the juice, or the odds, or the reward programs.
They just want to bet.
Many sports betters simply "get in a rut" when it comes to sports betting.  They get comfortable with the way they bet sports and they don't want to stop betting that way, no matter what you wave in front of them.
Here in Ontario for example, we have something called "Pro-Line".  You can go to a store and place sports bets via Pro-Line much like you'd bet on the lottery.  The only problem is you have to bet at LEAST 3 different things.  You can't just bet the Patriots to cover the spread for example – you'd also have to bet 2 other things at the same time, like the Dolphins/Bills game to go under, and the Steelers to also cover the spread.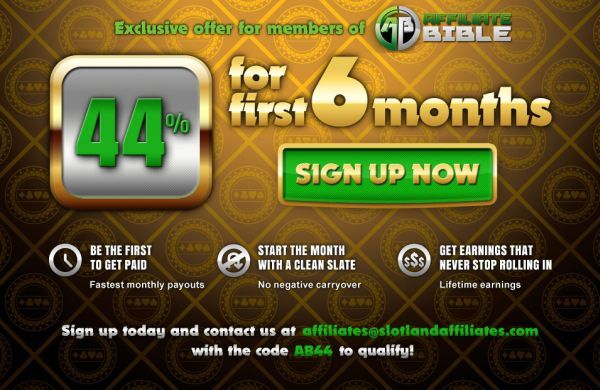 The odds betting on pro-line are a LOT worse than online sportsbooks too.  This is an image that Kevin from Sports Betting Tips has: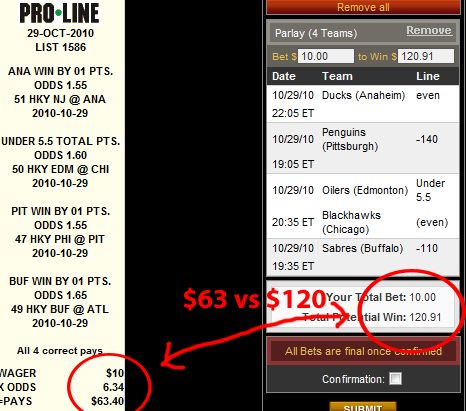 As you can see – you'd be a fool to bet on pro-line.  Yet people still do it!  All the time!  I've had numerous conversations with people and outlined all the facts as to why they should make the switch.  Yet they don't – because they're comfortable doing it their way.  That's the way the majority of punters are,
Unless you're offering the punter something new or drastically different to the way they currently do things – a sports exchange like Betfair or mobile betting at Superbook for example – you're going to have a very hard time convincing them to switch sportsbooks.
That's not to say website conversions WON'T happen – however they are something that you really can't rely on.
No when it comes to website conversions on your sports betting tips websites, you need to focus on getting people to sign up on your mailing list.  Because…..
The Mailing List Is King
Getting people to sign up for your sports betting tips mailing list should be one of the easiest converters ever.  If you're not getting 1 signup for every 10 new visitors to your webpage, you're doing something wrong – and those numbers are actually pessimistic.
You need to focus strongly on building up your mailing list – and looking it as long-term marketing.  Make your whole website about your mailing list – harass the visitor if you need to – just get that signup!
Entrance popups, exit popups, forms embedded in every article, whatever it takes just get that e-mail signup.  When it comes to making money from sports betting tips websites, mailing lists are what it's all about.
Once you have the people subscribing to the mailing list, it's all about personalization and providing winning tips.   What you need to do is earn peoples trust.  Obviously providing winning tips is a lot harder said than done – but it's doable.
There's also a few tricks to the trade that work well too.  I won't go into them all here – but be honest with the visitor, and try and educate them.  Make them understand that you can't win all the bets.  Try and remain positive and put positive spins on everything you send out.  If you're on a bad run but overall a winner, focus on your overall record.  If you've been losing the season but on a nice 6-0 run, be sure to focus on that.
Also try and make your mailers a resource for the user.  Make it something that they look forward to receiving every day.  Put everything in the mailing list – don't make them click through to your website to actually read the tips.
Do things to help the visitor – for example on many of my tips mailers I provide up to date lines at various sportsbooks – here's one example: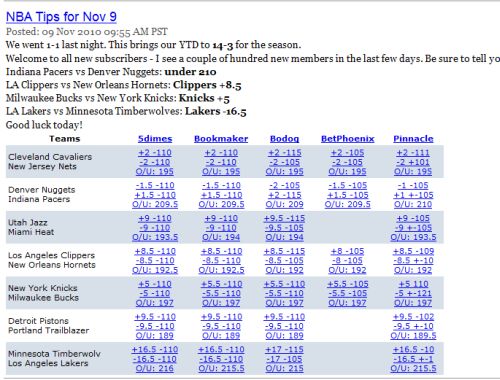 That's a resource for the visitors – AND it helps with conversions.  In that example, Cavs +2 are -115 at Bodog, and -105 at BetPhoenix.  At some point the sports better is going to question why they're betting at Bodog, and possibly make the switch to BetPhoenix.
I also tipped Knicks +5 in that article.  However the better is going to look and see that they can get +5.5 at Bookmaker, Bodog & BetPhoenix.  If they don't have an account at any of those three – there's a very good chance they will sign up there just for that extra half-point.
There are a million ways to market to people via e-mail – and when it comes to sports betting tips mailing lists, it's all about trust and personalization.
"The Money Is In The List"
AWeber proves it to thousands of businesses every day.
Learn how email marketing software
can get you more sales, too.
Be on a first name term with everyone on your mailing list, and if anyone ever replies discuss sports with them.  Focus on building trust with them – it's something that won't pay off short term, but it WILL pay off long-term.
How does it pay off long term?  It's very simple – when the readers trust you, they trust you.  They trust you enough to bet money on sports based on just your opinion – that's pretty huge when you think about it.  So if they value your opinion on where to wager their money, they're also going to value your opinion a lot more when you recommend a sportsbook to them.
Don't push sportsbooks to the reader every day – you'll look like a shill.  However when there's a viable reason as to why they should bet at a sportsbook, promote it!  Everything you do, do it as if you are doing a service for the reader.  "Hey guys if you're wanting to bet on your mobile device, I use the Superbook app and it's awesome."  "Hey if there's any World Cup fans out there, Betfair are offering a £25 free World Cup bet."  "If you're wanting to bet on these games during the actual game, Triobet has live betting."
It's all about providing a service for the readers first and foremost, and making money second.  Once you gain that reader trust, it's a hell of a lot easier to convert them.  You don't even have to restrict yourself to promoting sportsbooks to them – I've mentioned sports betting books I read and linked to on Amazon and got sales off that, and have promoted casinos to them in the past.
Hopefully I've given you a lot to think about if you're running, or thinking of running, a sports betting tips website.  To quickly summarize:
Focus on the mailing list
Build trust with your readers
Become a resource for them


Oh and one last thing – be sure to have a thick skin, or grow one quickly!  A large majority of sports betters don't understand sports betting, and expect winning tips every night.  The fact is, especially when it comes to even money bets, you're going to lose 40%+ of your tips – and a lot of people won't be able to handle that.  So just be prepared for the abuse that gets hurled at you!
If you're looking for great mailing list software, I can't recommend AWeber highly enough.