I'm not someone who goes around blacklisting affiliate programs "willy-nilly". I'm also not someone who generally airs their dirty laundry in public. You'll never see me complaining about an affiliate program on an affiliate forum – I always prefer to handle things behind the scenes.
I wanted to stress that, so you know how serious it is when I am here saying I am blacklisting Lock Poker and Lock Poker Affiliates.
3 weeks ago, I wrote about what an interesting month it was going to be for poker affiliates. This was due to Lock Poker purchasing the Cake Network and renaming it the Revolution Network, forcing the Merge Network to up their game.
Unfortunately, things aren't going well.
I was initially skeptical about promoting Lock Poker. Everything I had read about Lock on affiliate forums was usually in the negative, and it turned me off promoting Lock to the point that I even warned my players that I wouldn't recommend the room. In the month of May however I seemed to see nothing but positivity about Lock Poker.
I've generally learned never to fully trust anyone's opinions, because it's very rare that you get the full story. I much prefer to learn from my own experiences with a room.
So I decided to start promoting Lock Poker, and as you can assume from the blacklisting – I learned about Lock Poker Affiliates very fast!
On May 11th, I registered as an affiliate for Lock Poker. I received an e-mail from the general affiliate department, and then another e-mail from their Affiliate Marketing Director Shane Bridges welcoming me. I e-mailed him back on May 17th, because I wanted to get everything set up for my rakeback playerbase when June 1st came around. I never received a reply, and sent a second e-mail and added him to Skype, but again never heard back.
Now this was frustrating, as I was ready to move about 500 rakeback players there on a test run, and if everything went well from both the player and affiliate front I could bring them thousands more players. I was also concerned because if there was a problem that a player needed resolved, I wasn't confident I could get a response or resolution from the Lock Poker Affiliate Department.
However one of my friends, Gerry, who runs PokerNewsBoy.com, was recently hired as an affiliate manager at Lock, so I was able to contact him about it.
Now let me just say that I have absolutely nothing negative to say about Gerry. Gerry is a standup guy, and from what I understand his hands are basically tied in regards to what he can do, so I do feel bad for him in this spot. If anything – he is the reason I persevered with Lock. I was ready to tell them where to go on June 1st, until Gerry stepped in.
The whole ordeal was generally a mess. I had 500+ rakeback players all ready to move to Lock Poker. All I needed was to be able to log in to the backend(my password wasn't working) and also get set up with a rakeback tracker. That shouldn't be too hard, right?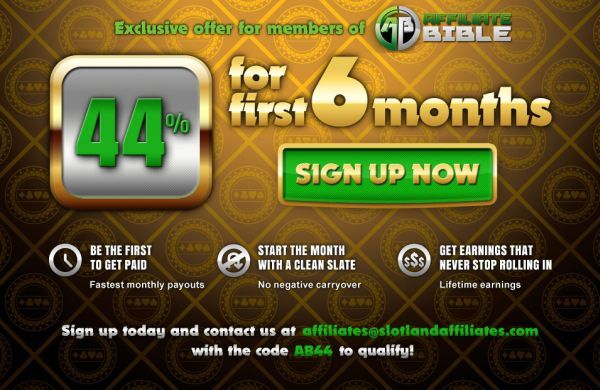 Well first of all, Lock didn't have a forgot password option, and there was no way for my password to be retrieved. It took about 3 days for me just to get my freaking password for the backend so I could log in. Even then, it required a lot of extra effort on Gerrys part.
I requested the rakeback tracker at the end of May. It took about 16 days just to get the rakeback tracker, despite me hassling Gerry about it every day. I know that if he could have got it he would have – but unfortunately it was out of his hands.
We eventually came up with an alternative solution where people would sign up under my link, provide me with their username and I'd e-mail them to Gerry, who would get them tracked for rakeback. (The players could have requested rakeback from Lock support, but I prefer to make everything as easy and hassle-free as I can for my players).
This solution didn't work out too well, as I found myself sending unanswered e-mails, and having to get ahold of Gerry on Skype. As of this writing I still have a couple of players who I don't know if they have rakeback or not, because I haven't heard back from an e-mail I sent a few days ago.
Now you know what? I'm a very understanding guy. I understand things may not go smoothly at times – especially in a situation like this. Lock had just purchased a whole network! Even though I had only sent a handful of players in June due to my concerns, I was ready to press ahead and send Lock a ton of players in July. I was even planning on investing a lot of my own money to bring players there.
Then Lock totally lost the plot.
On June 17th, user stillshadow started a thrread on PAL about an 11x CPA ChargeBack.. In summary, one player did a chargeback and rather than just take the CPA payment from stillshadow, they decided to essentially "fine" him 11x the CPA.
Of course, there's absolutely nothing in their terms and conditions about this. They do mention it for revenue share, but not CPA. So it must've been a mistake, right?
Nope.
On June 21st, stillshadow posted to say that it wasn't a mistake, and Lock Poker weren't going to fix it.
Now I'm someone who always believes there is two sides to any story. Making a big decision like this – surely there has to be some sort of sense behind it. I decided to wait, as I assumed Lock Affiliates would come into the thread and offer an explanation.
They didn't.
Instead, the CEO of Lock, Jennifer Larson, sent an e-mail to stillshadow. She stated that he is "slamming us on the forums and just being overall disrespectful", and with that has decided they don't want to work with anymore, and are closing his affiliate account.
Unbelievable.
I've been in internet marketing since 1997. I've been promoting gambling online since 2004. Other than Cardspike, I can't think of an affiliate program that I've seen shoot themselves in the foot like Lock did. The funny thing is – all I hear behind the scenes is how much money is flowing through Lock Poker. All the money in the world won't help a business if they have stupid people running it. And after seeing how Lock Poker handled stillshadows situation – well, I think you can make your own conclusion there.
Why would anyone ever promote Lock Poker or be a Lock Poker Affiliate? If you say ANYTHING bad about them there is a good chance they will close your affiliate account. Why would you ever run the risk of promoting these scumbags?
I know I wouldn't, which is why I posted this on PAL earlier today – click for big: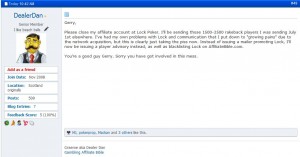 I can't help but think how lucky I am, really. The night before Full Tilt closed their doors I withdrew all my money and it hit my Moneybookers instantly! And I was ready to send hundreds of players to Lock on June 1st, only to be unable to log into my affiliate account because hey "forgot password" technology is apparently extremely difficult! At the time I was frustrated, but now I consider myself blessed.
Do not work with Lock Poker Affiliates. Go one step further: warn your players about Lock Poker. Let your players know that if they say something bad about Lock on a public forum, they run the risk of having their account closed, and their funds confiscated.
Think that's going too far? Yeah….read their T&C:
if you make untrue and/or malicious comments with regard to the Company's operation in any media or forum, the Company reserves the right (and you authorize the Company) to publicize your actions together with your identity and e-mail address, as well as to circulate this information to other online gaming sites, banks, credit card companies, law enforcement departments and other appropriate agencies. The Company may close any accounts, and forfeit account balances, that you have at Lock Poker or at any other Company website, casino and/or business
If you have any morals, then you know that sending players to Lock Poker is just as bad as sending them to Absolute Poker or Ultimate Bet after the whole "superuser" scandal. If you're an affiliate who doesn't mind bending over backwards for affiliate programs and only care about the almighty dollar then for sure continue to promote Lock – just remember not to even SNEEZE in the wrong direction or you could be getting one of those silly "we don't want to work with you" e-mails too.
I am blacklisting Lock Poker. I am blacklisting Lock Poker Affiliates. If you're looking for a Lock Poker Affiliate Program Review then here's one: don't promote them.
To summarize:
Walk from Lock.
Although I'd personally run.