As both a poker affiliate and poker player, it boggles my mind sometimes how selfish and greedy poker rooms can be. They rake in millions a year, barely handing anything out to the player in return – and anything they do offer the player, like a loyalty program or reload bonuses, are still both designed to make themselves money. They never offer affiliates free money – it's always "Bring us 15 players this month we'll give you an extra $100".
Then there's Cake Poker.
They get it.
I've written before about why Cake Poker is the best program for affiliates to promote, and here I am writing it again, and with good reason. Last Christmas, a parcel arrived at my door, and inside was a Christmas card from Cake Poker, with an Ipod Touch included as well. No strings attached, no "hit $500,000 MGR in January and you get to keep the Ipod" – just a free Ipod Touch, as a thank you to me for promoting them.
Then in September, Cake Poker flew me and my wife to Barcelona for a week, with all expenses paid. Again, there was no strict requirements in regard to this trip. And when I went on the cruise ship with the Cake Poker staff, there was no "okay now we got you here, we want you to promote us more". Hell, I don't think we even talked business the whole time. We hung out, we drank, we ate, we had fun and that was that.
Well, Cake Poker have did it again.
First, just like last year, I started getting e-mails from my players telling me how awesome Cake Poker was. Why were they so awesome? Because a bunch of my players had received an actual cake, pictured below: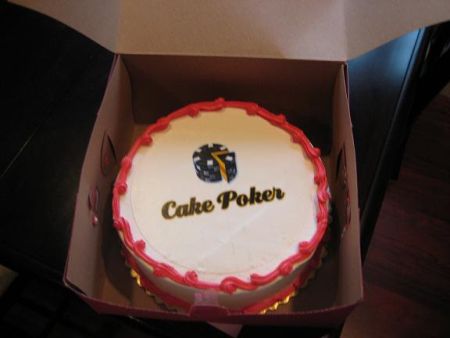 This was just Cake Poker telling these players that they appreciate their business.
As for me? Well this morning Purolator came to my door, to drop off a parcel from Cake Poker – a Sony Handycam DCR-HC52 to be exact.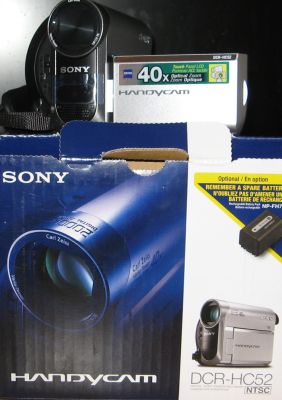 Yes, yet again Cake Poker had went out and sent me an awesome Christmas gift, just because I promote them. No requirements, no pressure – just "Hey, thanks for promoting us, here's an awesome Christmas gift".
Yet this is something affiliate programs can learn from, and really anyone running a business should learn from. Will Cake Poker directly earn money by doing this? Nope. However indirectly, they will earn so much more money than if they had told me "Increase your NGR by 10% in December and we'll send you a video camera", or tell my players "Play 1000 more hands than usual, and we'll send you a Cake." There's reason why I speak so highly about them in my Cake Poker Affiliate Program Review.
First with me – Cake Poker with this one gift have let me know how much they appreciate me. In this industry, that is rare. Oh so very rare. I can't think of the last time an affiliate manager or program even e-mailed me personally to say "Hey, thanks for making our poker room lots of money", while Cake Poker don't just thank me, but they send me a video camera. By doing this, they've pretty much ensured that I will promote them through thick and thin, making them my leading program on all sites. And when I get asked, as I always do, by affiliate managers "How can we become your #1 poker room?" I'll tell them quite simply that they can't – the spot isn't for sale, no matter how much revenue share or CPA you offer me. Cake Poker have shown they appreciate me, and by doing so have more than earned that #1 spot.
As for players? Every player has a bad experience at a poker room, whether it's a software crash during a crucial hand or just bad dealings with customer support in general. By showing the players that they appreciate them, Cake Poker have extended their brand loyalty. Furthermore, they have created strong word of mouth advertising, the best form of advertising there is. Think about it – a poker room send you a cake, you're going to be telling people about it. Those people are going to be jealous, or just extremely impressed with the idea of it, and want to sign up and get their own cake next Christmas.
The best thing about all this? Having met the people from Cake Poker, I can tell you that they don't even consider all those benefits. Oh sure – they know about them – but these are guys that truly appreciate players and affiliates, and do this just to show players and affiliates that they actually care.
So if you're tired of affiliate managers ignoring your e-mails, frustrated at affiliate programs that see you as just another number, or disappointed at poker rooms that just don't understand player retention – do yourself a favour.
Sign up today as a Cake Poker Affiliate. You won't regret it.