The day is finally here, and I couldn't be more excited. Euro 2012 kicks off in just 5 hours from this writing with Poland vs Greece, and I just can't wait.
I mean seriously – I am literally bouncing off the walls. You might think I need figuratively but I don't – I'll be walking around my house, see a clock and realize that the tournament starts even sooner than last time, and jump straight into my wall in excitement.
It's funny because I know exactly WHY I'm excited too – work.
I'm always excited for the big summer tournament – every two years I'm fired up for the World Cup or the European Championships. But this is a different type of excitement. It's the excitement I feel about having a successful website dedicated to the tournament, and the unlimited potential of money that awaits me.
This is the first time I've built a website dedicated to the European Championships or the World Cup. Usually I just add a section to one of my bigger websites – but this year I decided to go balls to the wall with BetEuro2012.org.
And the motivation and excitement it's brought me is unparallelled.
Sometimes, life sucks as an affiliate and you feel like you're going through the motions. Often, you'll build websites that end up as failures, or websites that bring very little success. But there's just such an amazing feeling when you build up a website, and it becomes a roaring success right off the bat.
Even moreso, in this day and age with the Google Panda and Penguin updates. You just never know how a new site is going to do – whether it is going to take off or fail miserably. Rather than outsource BetEuro2012.org I decided to do it all myself. If it was a failure, I really wanted to understand exactly why, and running and writing every aspect of the site would help me with that.
Thankfully, the opposite has happened. Here are the traffic stats for June 1st-June 7th: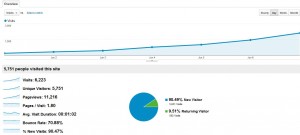 It's funny when you run these time-limited niche sites. You find yourself checking the stats pretty much religiously. I mean I only launched the site around May 20th. I remember getting excited at seeing the first search engine hits, and since then it's just snowballed.
What's really nice too is that so many people are betting on futures like "Top Euro 2012 Goalscorer" or "Team to Win Euro 2012". What this means is that there is no delay – I'm seeing a signups->conversion ratio of 92%. So immediately right off the bat, I'm getting paid for my work, and I'm getting all the rewards for my hard work.
I wanted to write this, as a motivational post for any aspiring affiliates out there. If you know what you're doing, you CAN make money online. Lots of it. I didn't achieve everything I did with BetEuro2012.org through crazy link schemes, or viral attempts, or Digg/Reddit bombs, or spinning tons of content to make the site larger than it seemed.
I've did it all through hard work.
In the space of a week, I wrote over 50 top quality articles for the website that were both informational and resourceful. Since then I've continued to write content that I know would benefit the end-user.
Most importantly, I've worked my ass off.
I hope many of you guys stuck in a rut, or creating the same cookie-cutter websites over and over and feeling jaded take some inspiration out of this. In this scary, scary world of search engines it is completely possible to build a website over the course of a weekend, and have it making $xx,xxx 2 weeks later.
Events like the Olympics are just a few short weeks away.
(Feel free to follow my bets in my Euro 2012 Betting Blog. When the tournament is over I'll write an article covering BetEuro2012.org, the mistakes I made, what I did right etc to help you guys in the future).