Unfortunately I have to blacklist Bet2Win. Bet2Win have an online casino and online sportsbook. Due to a complete lack of communication and thus a complate waste of my time and money, I am adding them to my blacklist and have to advise all gambling affiliates to refrain from promoting Bet2Win.
Also a warning to players – do not play at Bet2Win, Casino or Sportsbook.
On July 22nd of 2009, I was approached by Robyn T(robyn@bet2winaffiliates.com) about promoting Bet2Win. I initially declined, however Robyn set me up with an account at Bet2Win Casino with real money to try it out. I eventually did, was very impressed with the software, and decided to start promoting Bet2Win.
Over the month of August, I commissioned my content writer to start working on Bet2Win materials for my sites. This would include various articles both for the casino and sportsbook, as well as a lot of time spent researching and testing out both the casino and sportsbook.
On September 5th, I registered an affiliate account at Bet2Win, which was "pending approval". After a few days, I still hadn't heard back so I e-mailed their affiliate department, as well as Robyn directly. As I was going to Budapest for the affiliate conference and wasn't sure about internet access, I decided to go ahead and publish the Bet2Win content on my site and begin SEO, with the assumption that my affiliate account would be approved.
Unfortunately as of this writing, September 29 2009, Bet2Win have not approved my affiliate account, nor responded to me. I have e-mailed Robyn numerous times to no response. I have contacted the affiliate department general e-mail to no response. I have sent messages to their support time(telephone calls went unanswered, live chat was always offline) to no response. I have even sent messages to their twitter, to no response.
I have shown them a lot of good faith by incorporating them into my sites and having them remain there despite no affiliate tracking links. I am ranking high for a variety of Bet2Win keywords(see below image) and have already sent them a lot of clickthroughs which I did not get credit for.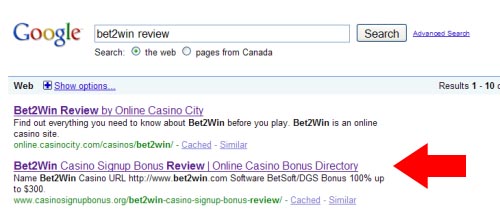 Due to their complete lack of communication, I have to advise all players to stop playing at Bet2Win, and all affiliates to stop promoting this property.
Bet2Win are now blacklisted.
Updates:
In November, Mary from Bet2Win attempted to contact me about the issues we were having. I ended up having a conversation with the Bet2Win Director Ryan Lakeside in January of 2010. Ryan explained that they were going through transitional changes, and that they were going to have a more in-house affiliate program with only select affiliates. Ryan also stated that at that point they were working on a Bet2Win relaunch.
After speaking with Ryan, I decided to remove Bet2Win from the blacklist temporarily, to see what happens. Ryan was meant to get in contact with me on February 16th, to update me on the situation at Bet2Win. I did not receive a call.
On March 10th I received an e-mail from Mary stating that the "new" Bet2Win was in the "testing process phase" and was "4 weeks away from an industry launch".
I also received an e-mail from Ryan, who stated that they were busy adding the new software and were four to six weeks away from a live date.
I have not heard anything from either of them since. I showed a lot of good faith in removing Bet2Win from the blacklist temporarily and they trampled all over it.
Bet2Win are blacklisted. For keeps.