Note: All Affiliate Program reviews are revised and updated on a monthly basis for total accuracy. This Affiliate Edge review was last updated on .
Affiliate Edge are the affiliate program for a variety of online casinos, which also accept American customers. They have a wide variety of online casinos that although use the same software, are vastly different when it comes to their branding.
That's one thing that has always impressed me about Affiliate Edge; when they launch a new online casino, I've never gotten the impression that they're "half-assing" it. Every casino looks well thought out, and different ideas and plans to attract an entirely different customer page.
Feel free to Head on over to Affiliate Edge – they're offering 50% Commission for new affiliates for the first 2 months.

The casinos that are currently under Affiliate Edge are:
Club World Casinos
Aladdin Gold Casino
Lucky Red Casino
Manhattan Slots
All Star Slots
High Noon Casino
Club SA Casino
Buzzluck Casino
The other thing that has really impressed me about Affiliate Edge is their main affiliate manager, Martyn Beacon. If you've ever read the GPWA forums or been to any affiliate conference it's very likely you know who I am talking about. When it comes to brand ambassadors it's hard to think of anyone who is better at their job than Martyn. He's always very friendly to talk to, always full of laughs and fun and has always been willing to work with anyone. Even when it comes to negative threads or issues he never shies away and is always right in the thick of it.
Now I'll be honest: I've never had much luck with Affiliate Edge in terms of the conversion front. I've tried many of their casinos over the years in various different spots and been left scratching my head when they aren't performing anywhere near as well as other casinos.
On the retention front however, they've been fairly solid. I've never had any whales at Affiliate Edge, but they've always did a good job of squeezing out extra deposits from their players.
Affiliate Edge use a custom backend that offers a lot of information such as Player Analytics and Website Analytics. It can be a little bit confusing to begin with, but when you take the time to understand it and play around with the reports and become more familiar with it, it becomes a very solid tool.
Their banner selection is okay – a few basic banners in different sizes depending on the casino. Where they really rock though is their flash games. Other casinos just hit you with a code usually – I mean look at this: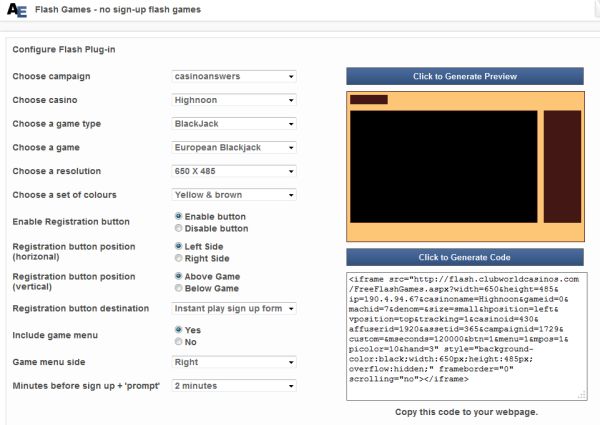 I mean holy crap – that is probably the best thing I've seen when it comes to flash games. Very rarely will an online casino allow you to have that much control over it.
Revenue wise, it is solid. 50% for your first 2 months, then a tiered scale which begins at 30% and goes all the way up to 40%. Payments are also processed very early in the month and if there's ever any issues they're easy to contact about it.
As I said above – I've always had issues with conversion when it comes to the Affiliate Edge group of casinos. After 2 months, I will usually drop them down a few spots. But give it a few months and I'm pushing them up to the top spots again to give them another try. To me – that's a credit to the professionalism of Affiliate Edge. They're a group of people that you really want to work together with, and succeed with.
Get 50% Revenue Share for your first two months – sign up at Affiliate Edge or keep reading this Affiliate Edge Affiliate Program Review for my personal take on promoting them.

How I Personally Promote Affiliate Edge Casinos:
I've tried many of the Affiliate Edge Casinos over the years, in a variety of different spots. From promoting Lucky Red Casino, their professionalism and their large bonus to High Noon Casino and their $60 no deposit bonus. I've promoted All Star Slots to the slots crowd, and Club Euro Casino specifically to Europeans.
I've went with their homepages, I've went with custom landing pages. I've did broad marketing and then very specific promotion.
Unfortunately, I'm yet to find something that 100% works for me. I know the casinos can do a great job – I've talked to other affiliates who have had a lot of success with them. Usually in this selection I'd give advice as to how to get the best out of a program – but yeah, I'm still trying.
So all I'd suggest is, especially with them accepting US players – give them a shot. They have a lot of versatility in the ways you can promote them, and hopefully you can fare better than me!
Head on over to Affiliate Edge and sign up.

Affiliate Edge F.A.Q.:
Do Affiliate Edge Offer CPA?
On their website they only offer revenue share. However like any affiliate program, if you prefer CPA you can always contact them and attempt to negotiate with them.
Does Affiliate Edge Have Negative Carryover?
Yes. Affiliate Edge carry over any negative commissions from the previous month. One positive is it is a brand to brand negative. So if you are negative at Lucky Red it won't affect your earnings at High Noon Casino for example.