Note: All Affiliate Program reviews are revised and updated on a monthly basis for total accuracy. This Sports Interaction Affiliate Program review was last updated on May 1st, 2022.
Sports Interaction is an affiliate program that I initially started working with pre-UIEGA and now are one of my #1 sportsbooks. I hadn't worked with them for awhile, until June 2013 when my current affiliate manager Richard contacted me about possibly listing the site on BetNHL.ca, due to the Stanley Cup playoffs coming up.
Sports Interaction only accept traffic from Canada. They're a Canadian sportsbook first and foremost, and as I get a lot of Canadian traffic at BetNHL.ca I decided to give them a strong push. I geo-target, so I focused exclusively on promoting Sports Interaction to Canadians.
You can check out their affiliate program here. If you want to read about them from a players perspective, read my Sports Interaction Review.

Immediately, I was impressed. I was getting 25% signup ratio, and the new account to depositing ratio for June 2013 was 100%. I promoted Sports Interaction to all my traffic – not just NHL visitors – and when I launched my CFL Betting Tips website, I actually sent 100% of Canadian traffic to Sports Interaction.
More importantly – I was extremely happy with the affiliate team at Sports Interaction. Richard was extremely helpful and a great affiliate manager – but what I really appreciated was he went the extra mile. He was pleasant to chat to about many things, and when I told him about the CFL website he actually got his CFL linesmaker to provide me with some insights.
This allowed me not just additional content, but a "hook" to provide when providing tips each week, and this clearly helped in terms of getting peoples interest on the site.
There was also an odd technical issue I encountered that would cause problems signing up. This was due to Roboform and how the form would handle that being filled out. It was very impressive just how thorough Sports Interaction Affiliates were in regard to resolving that issue.
I can not recommend Sports Interaction enough. These guys are a legitimate group. There's still a negative stigma in regard to online gambling in North America but this is not something you have to worry about with Sports Interaction. These guys are fully licensed and regulated, they sponsor sports teams, they advertise in the Globe and Mail, they have GSP recommending them. Seriously if you have any Canadian traffic – you can trust SI.
Overall I would highly recommend Sports Interaction, and if you have Canadian traffic it's a no-brainer. At the very least, I'd suggest signing up, and then geo-targeting them to Canadian traffic to begin with. That should be a good test and show you how good a job they do.

How I Promote Sports Interaction:
Since working with Sports Interaction Affiliates, I've focused mainly on the sportsbook. They offer a poker room and a casino that also features live dealers but I have yet to focus on them too much. I've promoted casino a bit and been happy with what I've seen.
From a sports perspective, I've been very happy. They cover most markets, and they offer a lot of special bets that you can't find anywhere else. For example in the NHL, they will offer player props which is very rare online, and they will often have an "Anytime Goalscorer" bet.
These are great hooks if you have an existing audience and I use them often. People looking for "nhl tips" usually bet somewhere as it is – so offering unique bets found nowhere else is a great selling point.
They also offer live sports betting and mobile betting. Both of these are very professionally done and look great, and are additional selling points.
Sports Interaction Affiliates also update their marketing material often which I appreciate. For example as I write this, my current NHL landing page has been automatically changed to this: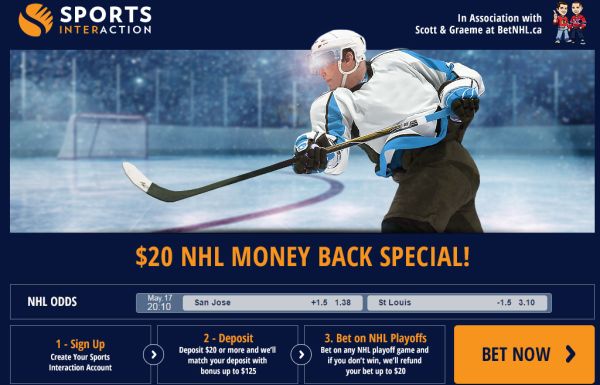 Which is big time appreciated as it's going to increase conversions when you have timely landing pages that you don't have to worry about and which cover my branding perfectly.
Finally, their odds are usually in line with other sportsbooks and occasionally better, which is obviously a nice additional selling point. Where Canadian teams are involved that's where I am always promoting SI – because their odds are vastly different in one direction due to all the Canadians betting on them.

Sports Interaction Affiliates FAQ:
Do Sports interaction Affiliates Offer CPA?
Yes, $100. They offer Revenue share which begins at 25% and goes up to 35%, $100 CPA and 4% sub-affiliate commission which has two tiers.
Does Sport Interaction Affiliates Have Negative Carryover?
Only on sports – not on casino. And they are always willing to talk it over with you if you have a negative balance and work with you on that.